Command Senior Enlisted Leader
Command Master Chief Geoffrey P. Steffee
United States European Command
CJTF-HOA Command Senior Enlisted Leader Biography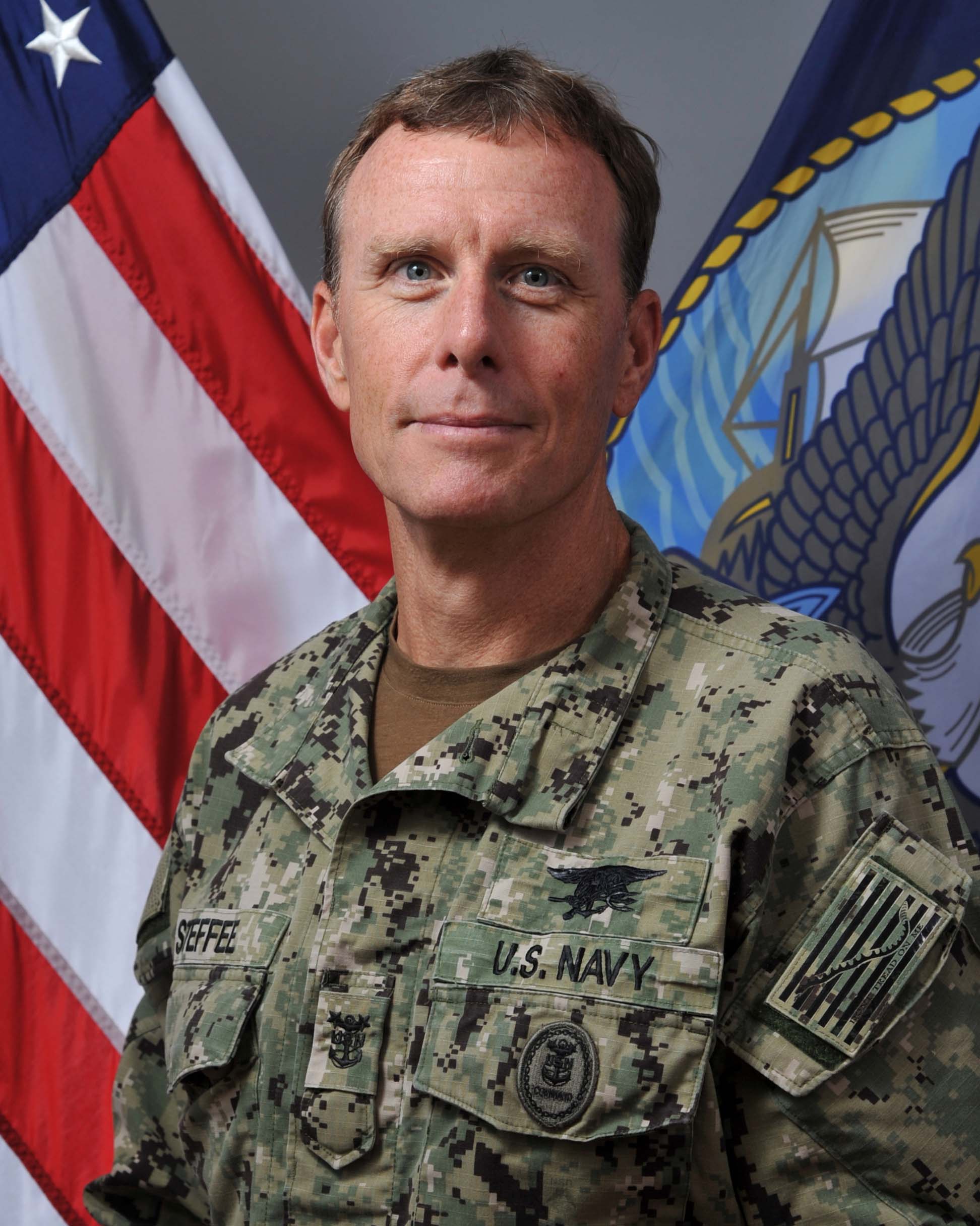 Command Master Chief Geoffrey P. Steffee is the command senior enlisted leader of Combined Joint Task Force-Horn of Africa, Camp Lemonnier, Djibouti. He serves as the principal advisor to the CJTF-HOA commander on all issues affecting health, morale, welfare, and professional development for approximately 2,000 Army, Navy, Air Force, and Marines joint service personnel. Additionally, he provides assessments and recommendations to the commander, deputy commander, chief of staff, and directors on key leader engagements and proposed projects affecting African partners.
Prior to his current assignment, he served as the senior enlisted leader at Special Operations Command South, Homestead Air Reserve Base, Fla.
Master Chief Steffee is a native of Texas and enlisted in the U.S. Navy in 1987. Upon completion of boot camp in Orlando, Fla., he received orders for Gunners Mate "A" School in Great Lakes, Ill. In March 1989, he graduated from BUD/S Class 157.
Master Chief's assignments and duties have included SEAL Team THREE, SEAL Delivery Vehicle Team ONE, Military Freefall School Detachment Yuma, SEAL Team EIGHT, SEAL Delivery Vehicle TWO and NSW Support Activity TWO. While attached to these commands he worked as an Ordnance Representative, Communications Department Head, Engineering Department Head, Platoon Leading Petty Officer, Platoon and Troop Leading Chief Petty Officer, Military Freefall Basic Course Detachment NCOIC, Regional Task Force-Central Asian States NCOIC, multiple tours as a Operations Master Chief and Senior Enlisted Advisor/Command Master Chief. He has deployed in support of multiple operations to include Operations Desert Storm, Desert Shield, Iraqi Freedom, and Enduring Freedom. His deployments also include support to Counter Piracy Operations off the Horn of Africa, as well as various exercises in the Philippines, Thailand, Korea, Japan, Malaysia, Singapore, Okinawa, Bangladesh, Australia, United Arab Emirates, Oman, Qatar, Bahrain, Jordan, and the Seychelles.
Master Chief Steffee has obtained various qualifications to include: the Enlisted Surface Warfare Specialist, Naval Special Warfare Scout Sniper, Military Freefall Jump Master, Accelerated Freefall Instructor, Naval Special Warfare Air Operations Trainer / Examiner, Master Training Specialist, SEAL Delivery Vehicle Diving Supervisor, Range Safety Officer, Helicopter Rope Suspension Training Master, Emergency Medical Technician, and Advance Special Operation Techniques LVL II. He is also a graduate of the U.S. Navy's Senior Enlisted Academy and the U.S. Navy Command Master Chief / Chief of the Boat Course in Newport, R.I.
His personal decorations include the Defense Meritorious Service Medal (2nd Award), Bronze Star medal with Combat "Valor" distinguishing device, Meritorious Service Medal (2nd Award), Navy Commendation Medal (5th Award), Navy Achievement Award (4th Award), Combat Action Ribbon (2nd Award), and numerous other personal awards and decorations.
(Current as of April 2016)
Tags