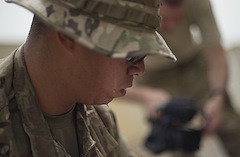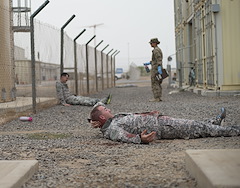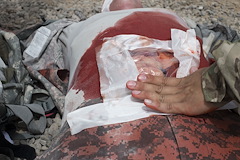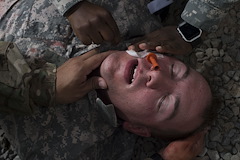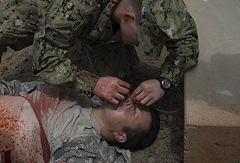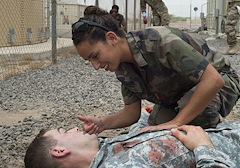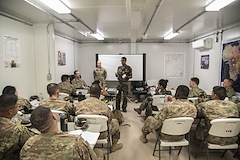 When someone is injured and heavily bleeding, it is important to learn medical skills that may save that person's life. This is especially important not only at home or work centers, but the battlefield as well.
Soldiers from the 403rd Civil Affairs Battalion from Mattydale, N.Y., assigned to the Combined Joint Task Force-Horn of Africa, taught fellow service members and French military members just that: how to save a life, limb and/or eyesight during a combat lifesaver course, June 20-23, 2016.
With support from the HOA Surgeon Cell, the four day course included 40 hours of instructional and hands-on training to soldiers from the 1st Battalion, 124th Infantry Regiment, and a French doctor, nurse and paramedic from the French military base in Djibouti.
"It's mostly taught to help prevent the leading causes of injury and death on the battlefield such as bleeding control, airway management and treating for shock, hyperthermia, and getting (the patients) to a higher echelon of care," said U.S. Army Sgt. Kathleen Greene, 403rd CA BA CLS instructor.
It was also the first time French military members attended the course to not only learn from the 403rd CA BN but to share their skill sets.
"I think it's great. I'm sorry we don't get to (participate) more," said French Capt. Xavier, physician. "At the base, even though I'm a doctor, I learned a lot about (American) practices and about what they do in the field. I hope we get to do it again."
The French team brought their own medical supplies to show how they treat patients.
"They brought in all of their medical supplies and showed us how they set up their Individual First Aid Kit (IFAK) as well as their A-bags," said Greene. "The physicians also told us the training they have to do to have their jobs. They were just a big attribute to this class and taught us a lot about the French military."
The course started with a pre-test to see where students were with their skills then were tested again at the end of the four days.
"We had a 100% success rate with the final hands-on skill set and the written (test)," said U.S. Army Spc. Kristie Richardson, 403rd CA BNCLS instructor. "Nearly half the class on the first day unfortunately failed (the test), but it just shows you how much they have learned throughout the four days in this course and it's amazing."
There were students with no medical experience who left with the desire to learn more, said Richardson.
"A lot of the combat wounds in the field can be prevented and a lot of deaths can be prevented with tourniquets. A lot of people have not seen a tourniquet or have used one," said U.S. Army Spc. Larry Martinez, 1/124 Inf. Rgt. wheeled vehicle mechanic. "With this training we learned on tourniquets, dressing, splinting fractures, and calling in a 9-line (medical evacuation), so if you're ever put into that position in the field you're better familiarized with everything you have learned."
The classroom and hands-on training gave the students critical skills to put in their "tool box" that will minimize unnecessary deaths and give them the experience and knowledge to use the supplies in the IFAK, or to improvise supplies, Greene said.
"I feel very lucky and fortunate to be an instructor for this course," said Richardson. "I think it should be mandated [for] 100% for the branches. Being here at Camp Lemonnier and [being] able to provide this course to not just Army like it is in garrison, we get to provide it not only to marines, sailors, and airman but also to foreign allies as well."