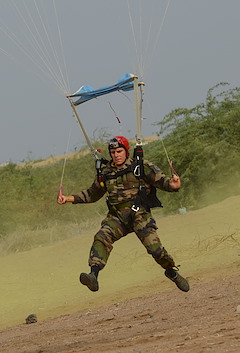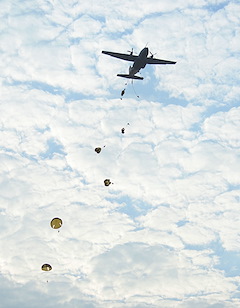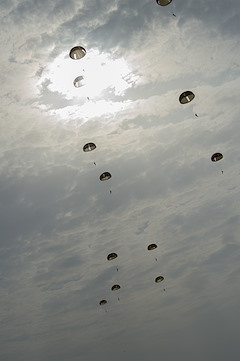 U.S., French and Djiboutian airborne forces came together to celebrate St. Michel, the patron saint of paratroopers, Sept. 29, 2016, at the local French air base in Djibouti City, Djibouti.
The airborne forces began the celebration with a static line and a high-altitude low opening (HALO), or free fall, jump at a nearby drop zone. Following the jump, participants attended a mass at the French air base to honor St. Michel and a ceremony where several American jumpers were awarded French jump wings.
"This is a recognized symbol of the airborne forces, which is determined to be an elite segment of the military society," said U.S. Army Maj. Gen. Kurt Sonntag, Combined Joint Task Force-Horn of Africa commanding general. "It's celebrated around the world and it is a great opportunity to which esprit de corps is built amongst various nations. We do this through the annual jumps of various types of platforms amongst different types of airborne forces."
The history of St. Michel began in 1944, where each paratrooper was given a medal with an engraving of the saint. During some battles, the paratroopers went into hiding and the medal became their symbol to rally together. It wasn't until February 1945 that St. Michel officially became the patron saint of paratroopers.
"The French, Americans and Djiboutians are allies, we fight together and this is why it is important for us to commemorate St. Michel," said Ambassador Christophe Guihou, French Ambassador to the Republic of Djibouti. "It is a very important day for the French paratroopers, and we are very honored to have with us American and Djiboutian troops."
Joint activities such as this provide an opportunity for the multinational forces to simply learn about one another, and also share best practices, said Capt. Charlie, a French jumpmaster.
"Regardless of the nation, we all travel through the same door and share very similar, if not the same objectives. This is primarily so for paratroopers in operations before, and [operating] now," Charlie said. "Older paratroopers have an opportunity to revisit their past. Altogether, sitting very close together, on similar seats, carrying the same load on their backs [and] sharing the same concerns or fear, regardless of nationality, rank or status."
The participating Americans had already earned their U.S. airborne jump wings, but for static line and HALO jumps at the beginning of the day, the U.S. Army Soldiers jumped with French parachutes in a French aircraft led by a French jumpmaster. During the ceremony, the U.S. paratroopers received engraved French jump wings for completing the jump.
"This was a unique opportunity to celebrate an occasion very symbolic for paratroopers, and to strengthen the bond that we as a community of paratroopers share," said Charlie.