Combined Joint Task Force-Horn of Africa begins leadership transition
By
Combined Joint Task Force - Horn of Africa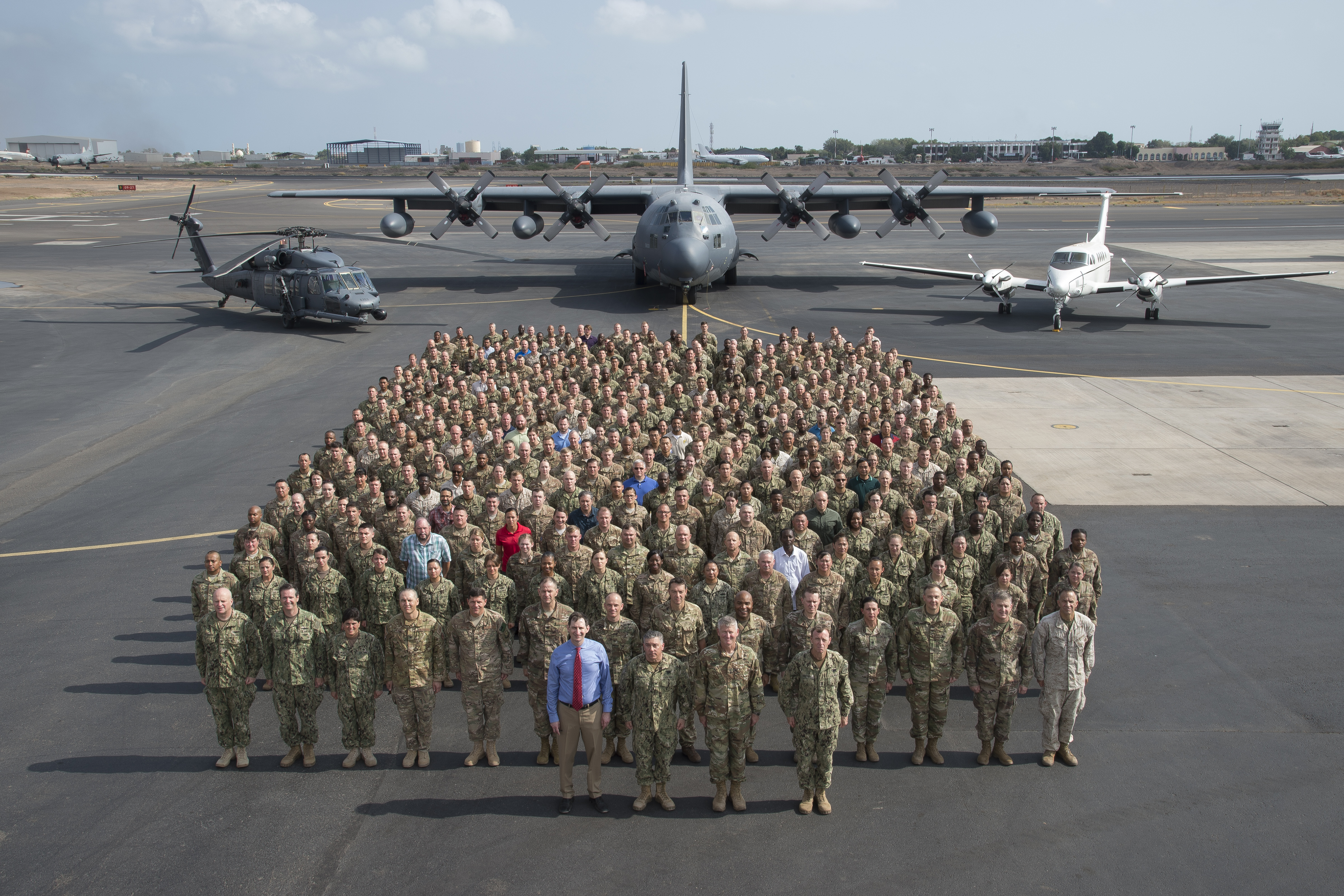 Combined Joint Task Force-Horn of Africa begins leadership transition
U.S. Soldiers, Sailors, Airmen, Marines, DoD civilians, and contractors representing more than 2,000 members assigned to Combined Joint Task Force-Horn of Africa assemble on the flight line at Camp Lemonnier in Djibouti, April 14, 2017. CJTF-HOA Commanding General Maj. Gen. Kurt Sonntag and Command Senior Enlisted Leader Command Master Chief Geoffrey Steffee, will conclude their tour after a change of command ceremony on April 28. (U.S. Air National Guard photo by Master Sgt. Paul Gorman)
Djibouti - More than a year of military service as commanding general of Combined Joint Task Force-Horn of Africa (CJTF-HOA) draws to a close for Maj. Gen. Kurt Sonntag, as the task force prepares to transition to a new leadership team.
Sonntag and Command Master Chief Geoffrey Steffee, command senior enlisted leader for CJTF-HOA will both relinquish their duties during a formal change of command ceremony at Camp Lemonnier, April 28.
According to Sonntag, the high turnover rate of rotational forces dictated an immediate need to focus on training.
"One of the things that Command Master Chief Steffee and I did right up front, was recognize that there was a training aspect that needed to be incorporated into on-boarding new personnel," Sonntag said. "So, we set up a small training program to get them assimilated into the structure as rapidly as possible. Then [Steffee] and I would provide the new personnel an in-brief, describing what this command is all about, what we're doing, how they fit in as an individual and as a member of this team."
Upon taking command, Sonntag further recognized the need to focus the mission of CJTF-HOA, eliminating the confusion generated by an extremely diverse mission statement. His efforts proved successful, and with minimal command reorganization, established a clear, concise mission set targeting the first line of effort in U.S. Africa Command's (USAFRICOM) theater campaign plan.
During the course of their tour, Sonntag and Steffee provided the leadership required to allow more than 2,000 Soldiers, Sailors, Airmen and Marines to accomplish the USAFRICOM mission in the Horn of Africa.
In July 2016, that mission included providing security to a U.S. embassy that was at risk due to conflicts within South Sudan. The increased security posture was not only rapidly established, but successfully maintained for more than six months.
The legacy of Sonntag's leadership team lies most visibly in the dynamic of what CJTF-HOA will become moving forward.
"I argue that the need for a CJTF within east Africa has come and gone," Sonntag stated. "Joint Task Forces are a short-term solution for a specific task or purpose, with a definite end state; but things in east Africa have evolved over time. So there is a need for a U.S. headquarters present but not as a JTF. Some other type of permanent solution is needed because we're going to be here in Djibouti for quite a while."
"We've established some new processes and procedures and charted a course for, not only this command but also AFRICOM," Sonntag said.
Sonntag's next assignment will be the commanding general of the U.S. Army John F. Kennedy Special Warfare Center and School, Fort Bragg, N.C. "It's time for me to move on to another challenge," he added.
April 22 marked the arrival of the new leadership team, who will carry on the evolving mission of USAFRICOM in East Africa.
On April 28, Brig. Gen. David Furness will be taking command of CJTF-HOA. In his previous assignment, he was the legislative assistant to the commandant of the Marine Corps at the Pentagon in Washington, D.C.
Tags