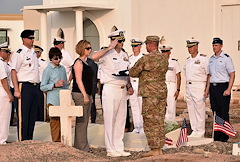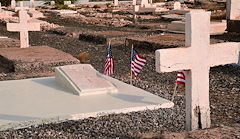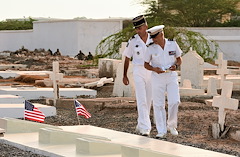 Brig. Gen. Howard Purcell, Combined Joint Task Force – Horn of Africa deputy commander, and approximately 50 U.S. and French military members and civilians assembled at the Djibouti New European Cemetery May 29, to honor the solitary native-U.S. military member buried here.
Among the 850 graves in the cemetery, Pilot Officer Lawrence Maguire, a New Jersey-native, is recognized as the only U.S.-born military laid to rest in the country.
During the event, U.S. Navy Capt. David Rodriguez, CJTF-HOA chaplain, gave the invocation. Following the opening, U.S. Navy Capt. John Tully, U.S. Embassy to the Republic of Djibouti senior defense official and defense attaché, and Purcell both contributed remarks. The ceremony continued with an official laying of flowers at Maguire's headstone, then the benediction and a solemn conclusion with the playing of taps.
"It's an honor for CJTF-HOA to be here today," said Purcell. "Today is the day to acknowledge and respect the sacrifice many have made in service to our country. It is a day to place flags at the graves of our heroes to remember our comrades, brothers and sisters, who went before us and remind ourselves that freedom is not free."
Before the U.S. entered World War II, Maguire - stirred by family history and desire to serve - joined the Royal Canadian Air Force in 1940. His aircraft was downed after being fired upon during a mission and he spent three months recovering before transferring to the 8th Squadron, Royal Air Force, Khormaksar, Aden. On July 15, 1942, while providing air support for ground forces in the Gulf of Aden and Horn of Africa over Djibouti, Maguire and his crew were again shot down. This time, none survived.
The following day, Maguire and his crew were laid to rest with full military honors in the Djiboutian cemetery by French forces.
Julie Tully, spouse of Capt. Tully, who oversees the Memorial Day service, said that the Maguire commemoration has taken place for two years. However, the U.S. Embassy in Djibouti has intermittently conducted ceremonies for a decade.
"The significance is being here now in the same place over 70 years later, for a very similar reason —there's tremendous feeling behind it," she said. "There's an importance in showing our own service members the history that's here and the reason that we need to continue on with our goals."
Today, that goal is for the U.S. and CJTF-HOA to work with its international partners in East Africa to assist creating a stable, secure environment against violent extremist organizations. And while CJTF-HOA's daily intent is to promote regional stability and prosperity, for a few moments this Memorial Day, the task force's purpose was to embrace the unselfish service of our fallen.
"Pilot officer Lawrence Maguire is not forgotten," said Purcell. "Remember all those before and after who answered the call. These service men and women shall forever be in our hearts."