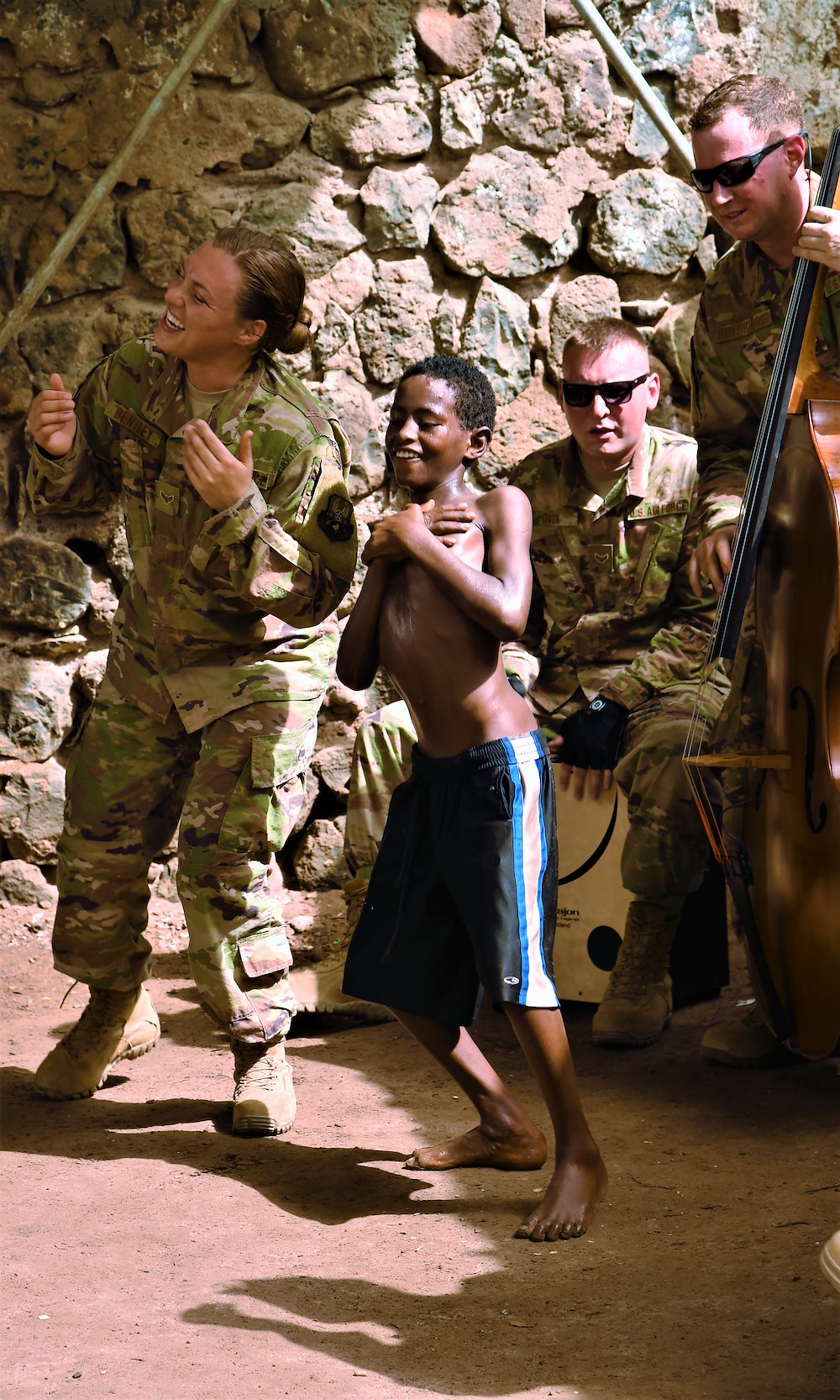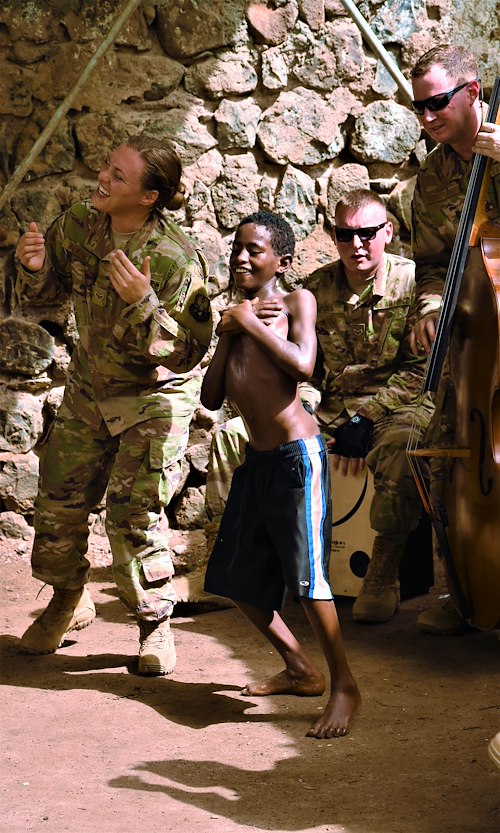 3 photos: Caritas kids boogie, bond with AFCENT Band during Djibouti tour
Download full-resolution image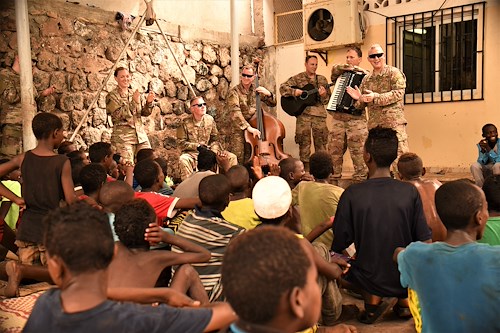 3 photos: Caritas kids boogie, bond with AFCENT Band during Djibouti tour
Download full-resolution image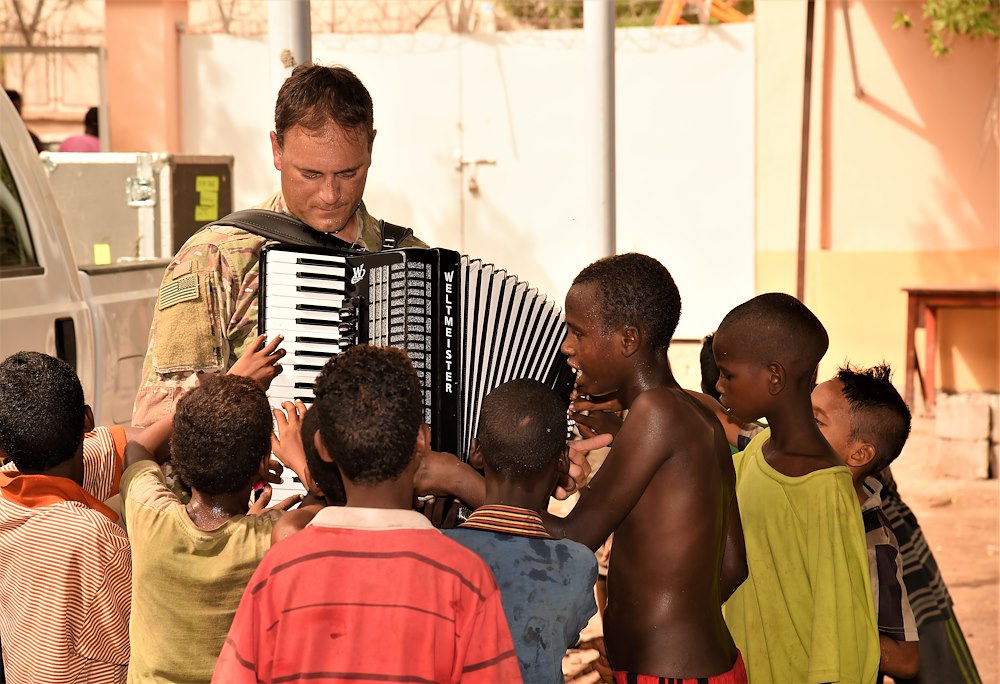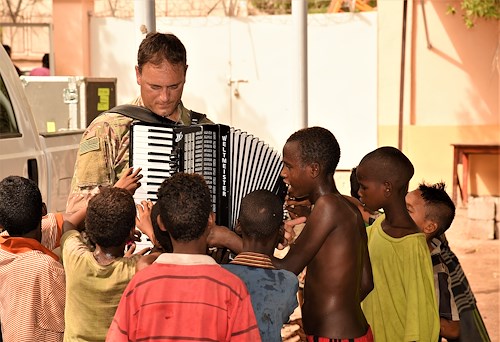 3 photos: Caritas kids boogie, bond with AFCENT Band during Djibouti tour
Download full-resolution image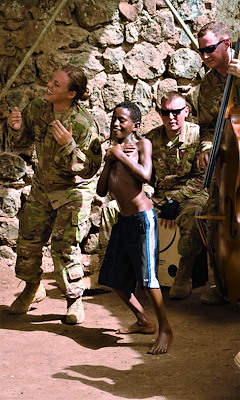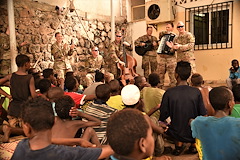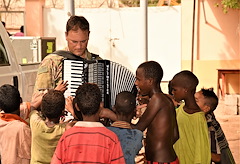 DJIBOUTI CITY, Djibouti -- The U.S. Air Forces Central Command's (AFCENT) Band, Starlifter, kicked up delight and dust as the eight-member ensemble drummed, picked and played American music for nearly 50 children at Caritas Djibouti, June 6.
Caritas Djibouti is one of the many operations that function within Caritas Internationalis, which has an overall goal to serve the poor and to promote charity and justice throughout the world. The mission contributes emergency humanitarian aid and education to the inhabitants of Djibouti, mostly to children living on the streets.
"This is a wonderful opportunity," said Airman 1st Class Josiah Joyce, AFCENT Band guitarist. "We're able to come out into these communities and develop relationships. We let people know that the U.S. military is here for them in a way that they might not initially think."
The Combined Joint Task Force – Horn of Africa (CJTF-HOA), in step with its parent command U.S. Africa Command (AFRICOM), is committed to promoting current regional partnerships. Events like the AFCENT's band visit to Caritas Djibouti help accomplish that through the appreciation of music.
"We are always looking to build communities of trust wherever the U.S. government is and try to create trust in the U.S. military uniform," said Capt. Justin Lewis, AFCENT Band officer in charge. "Our way of doing that is getting out and connecting with the people. That person-to-person correlation helps others understand what America is trying to do here for the safety and security of the region."
CJTF-HOA is helping to create a stable and secure East Africa. Enriching the lives of partner nation's children – like working with Caritas Djibouti – can be viewed as a supporting action for that effort.
During the 2-hour event, Starlifter played a handful of both pop and country music songs. Various children danced and sang along, some – fixated by the tunes – sat and listened, while others played along with toy instruments. And while the event was intended to delight the Djiboutian youth, the band members also benefited from the experience--they established a bond with their young audience.
"To come here and see these children dance and have a good time, as well as come and dance with them, is such a feeling of unity," said Joyce. "We're sharing cultures through music – it's the international language."
The AFCENT Band is the first permanently assigned Air Force Band to the Central Command Area of Responsibility. Based in Al Udeid Air Base, Qatar, the band is comprised of deployed Airmen from active duty, Reserve and Air National Guard bands.