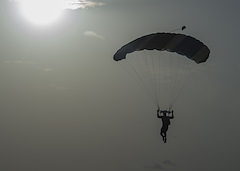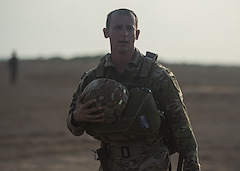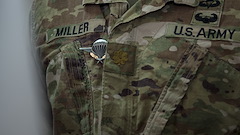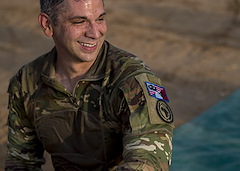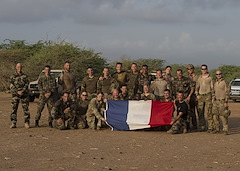 DJIBOUTI CITY, Djibouti - American, French, Djiboutian and Italian forces performed a static line jump near Camp Lemonnier, Djibouti, Sept. 29th, 2019, in celebration of St. Michael the Archangel, the patron saint of paratroopers.

"Saint Michael is the most important rendezvous for all the French paratroopers," said French Forces Djibouti Maj. Mathieu, the French liaison officer assigned to Combined Joint Task Force-Horn of Africa (CJTF-HOA). "For instance, it enables us not to forget the past and the heritage of World War II paratroopers who jumped in Normandy to liberate France from the occupation."

The jump was coordinated by the French forces in Djibouti in conjunction with members of CJTF-HOA's 411th Civil Affairs Battalion.

"These operations are crucial to developing relations and trust with our partners," said U.S. Army Capt. Ryan Toft, chief of operations, 411th Civil Affairs Battalion, assigned to CJTF-HOA. "The best relationships are forged out of adversity."

A static line parachute jump involves a day's worth of pre-jump training, going over proper parachute procedures with the French equipment.

"There were not too many differences between jumping French equipment versus American equipment," said U.S. Army Staff Sgt. David Ray, special projects non-commissioned officer, 411th Civil Affairs Battalion, assigned to CJTF-HOA. "It did take a lot of concentration to understand some of the French descriptions of basic airborne operations. At the end of the day, though, we were able to figure out most of what was being said."

After the jump, all coalition forces went to the French forces base in Djibouti to attend a Roman Catholic Mass, to further celebrate St. Michael's feast day. After Mass, the jumpers went to a small ceremony where a few of them received French jump wings, presented by French jumpmasters.

This is not the first time the French have coordinated a jump with coalition partners. In June of this year the French invited coalition forces to jump with them in celebration of the 75th anniversary of D-Day, when American forces parachuted into Normandy, France.