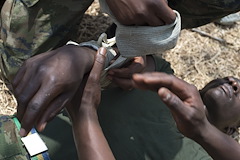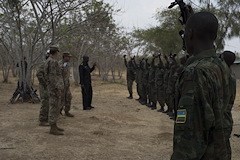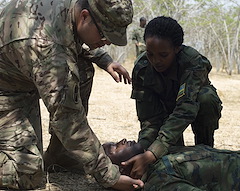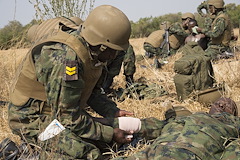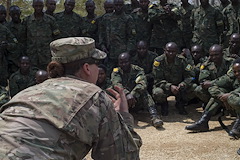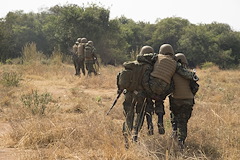 In any conflict that involves violence, casualties are expected on the battlefield. While not all deaths are preventable, there are some techniques which, when properly applied, can prolong a person's vitality until adequate care is available.
U.S. Army Soldiers from Combined Joint Task Force-Horn of Africa worked with Rwanda Defense Force soldiers to help prevent battlefield deaths during a two-week medical class that concluded Sept. 9, 2016, at the Rwanda Military Academy, Rwanda.
"This is the class that is equivalent to the United States Army [combat lifesaver skills] training," said U.S. Army Sgt. Isabella Kulacz, 1st Battalion 124th Infantry Regiment medic. "So we got a bunch of non-medical soldiers and we trained them on how to prevent deaths on the battlefield."
The training went into detail about three of the leading causes of preventable death in combat.
Kulacz said the main focus during the training was concentrated on battlefield preventable deaths, which include hemorrhaging from extremities, keeping a victim's airway open, and treating tension pneumothorax— a build-up of air in the chest cavity due to a collapsed lung that can lead to traumatic arrest.
Being able to treat such injuries not only enhances the capabilities of the country's defense force, but also enhances the capabilities of its allies.
"If you train the Rwandan soldiers in [combat lifesaver skills], then they are not confined to treat only members of their own forces," said Sgt. Jonathan Lopez, 1/124 Inf. Rgt. medic. "If there was ever a joint mission that we were doing together, then they would know how to save you or me from these injuries."
While being able to help an ally from a different nation is good for relationship building, the medical training did not come without some minor challenges.
"The language barrier was a problem, so we just had to learn to adapt our styles of communication to make it easier for them to understand," Kulacz said.
For example, during hypothermia treatment training, Kulacz started by saying all causalities are cold, and explained to always cover up them up because they will get cold, even in the desert.
Although there were some hurdles to overcome, the medics agreed that training a national ally has been beneficial for them, as well.

"We are building allies with other countries, and we learn some of their tactics." Lopez said. "We can always learn [from] field medicine tactics. If they don't have the same supplies we have, they can show us ways that they improvise. So it's always a learning tool in our pockets, learning from all of their soldiers as well."
The training concluded with an exercise where the students were able to demonstrate their skills learned in the training. After the event, Kulacz expressed her confidence in the newly-trained soldiers' abilities to possibly save lives on the battlefield.
"They did fantastic," Kulacz said. "At the end of the training we ran them through a lane of practicing everything that they have learned from the beginning to the end, and they did a great job. "They could definitely identify the things that are going to kill you and if it can be fixed, they can fix it."