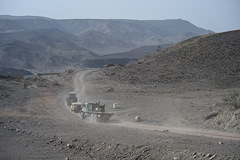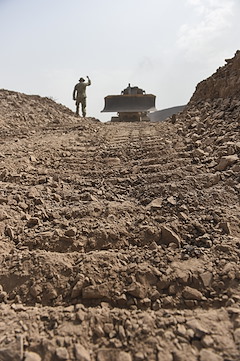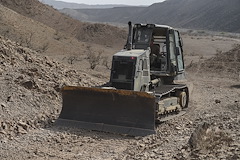 CAMP LEMONNIER, Djibouti— A project several months in the making finally came to fruition July 30 with the help of a few equipment operators from the Naval Mobile Construction Battalion One, assigned to Camp Lemonnier, Djibouti.

These equipment operators had the difficult task of improving the quality of the roughest roads on a range complex near Arta, Djibouti. As far as the eye can see, the ground is blanketed with jagged rocks, large boulders and stones -- not the most ideal for vehicle transit.

Due to the rocky terrain, previously established paths were a safety hazard. Flat tires and rollovers have occurred in the past, so the plan is to make the roadways easier to navigate which will mitigate future risks. Additionally, this will save the various international military forces who utilize the range extenuating costs associated with vehicle repairs needed after navigating the road.

A team of five Seabees traversed a roughly 50 mile radius of the range over four days while improving established pathways and creating new ones.

"The Seabees participation in improving the roads throughout the range complex is a pivotal engagement by not only providing support to our own U.S. forces, but to our coalition partners as well," said Staff Sgt. Neil Loaiza, Combined Joint Task Force-Horn of Africa range coordinator.

The Seabees experienced first-hand how rough the roads were during their completion of the project by suffering several flat tires of their own. Those minor setbacks only aided in reinforcing the necessity of the task they were completing.
"The completion of this project will hopefully, in the long run, save unnecessary costs for gas and replacement parts for damage done to the equipment that is used, as well as, decrease the number of manpower hours needed to retrieve downed vehicles in and around the range area," said Loaiza.

Though continuous and routine maintenance of the road conditions will be necessary, especially after inclement weather, the Seabees' work made for a great start.

"This project will improve relationships with international military partners, increase the safety for driving, significantly reduce hazards that cause flats and/or roll-overs and reduce travel times to all range areas," said Loaiza. "The work they completed in such a short amount of time will go a long way in ensuring training and missions can continue."