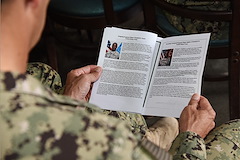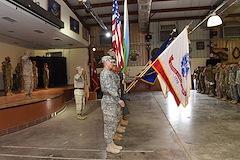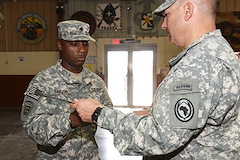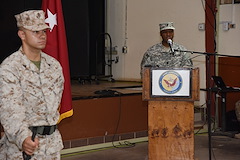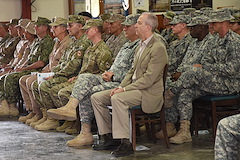 U.S. Army Command Sgt. Maj. Butler Kendrick Jr. assumed responsibility as the Combined Joint Task Force-Horn of Africa command senior enlisted leader, succeeding U.S. Army Sgt. Maj. Claudell Taylor, during a Relinquishment of Authority ceremony at Camp Lemonnier, Djibouti, June 19, 2015.
"I'm humbled and blessed to have the opportunity to have served as the interim command senior enlisted leader of CJTF-HOA," said Taylor. "A true leader is someone who will tell you the truth even if you don't want to hear it. They will instill good order and discipline within the organization and empower the junior NCOs to do the same. A true leader has the confidence to stand up for what is right, even if it means standing alone. Command Sgt. Maj. Kendrick has those qualifications. I believe he's a great addition to CJTF-HOA."
As the CSEL, Kendrick will lead, mentor, enforce standards of good order and discipline, advise and assist the CJTF-HOA commander on all matters pertaining to the health, morale, welfare and professional development for more than 1,800 Army, Navy, Air Force, and Marines joint service personnel in 14 countries in Africa.
"Sgt. Maj. Kendrick, you will be our standard bearer for discipline and accountability, and we will look to you to improve our operations and organization," said U.S. Army Maj. Gen. Mark Stammer, CJTF-HOA commander. "Your demonstrated track record of steadfast service, selfless sacrifice, and consummate professionalism makes you the right leader to take CJTF-HOA to new heights."
Kendrick said he is humbled and honored to serve his country in the Horn of Africa and working with CJTF-HOA's multinational partners.
"My daily obligation and promise to you is to ensure the team is trained, focused and ready to assist with defeating regional threats, to conduct theater security cooperation, and to execute crisis response within East Africa," Kendrick said. "The strategic importance of our mission and the enabling role we play cannot be overstated, and we dare not take our responsibilities lightly. This type of commitment is difficult to fulfill, and it's done with hard work and dedication. It takes partnership, trust and respect to achieve the unity of effort, as we work not only for U.S. interests, but also for the security and stability of East Africa. I am on the ground and am ready to take action alongside you—to move forward together."
Prior to being selected for this assignment, Kendrick served as the 17th Engineer Regimental Command Sergeant Major at Fort Leonard Wood, Missouri, and this will be his fourth time in the role of Command Sergeant Major.