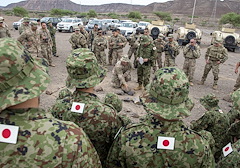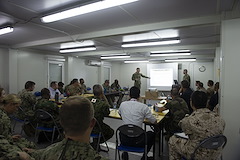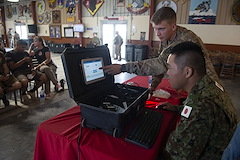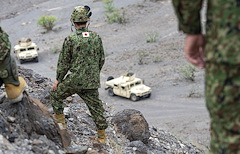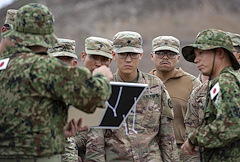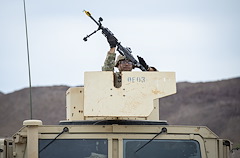 DJIBOUTI, Africa— Military members assigned to Combined Joint Task Force-Horn of Africa (CJTF-HOA) worked together with the Japan Ground Self-Defense Force (JGSDF) to share capabilities during an annual noncombatant evacuation operation (NEO) exercise held in Djibouti, Africa, Oct. 1-4.
The objective for this training was to increase interoperability and understanding of each nation's humanitarian assistance, disaster response, and NEO response, said U.S. Navy Cmdr. George Dickens, deputy director of training, assigned to CJTF-HOA and the command's NEO lead planner.
"Exercises like this help us come to a mutual understanding of the capabilities and limitations of each country to respond in a time-of-need for everyone," said Dickens.
A NEO is the military-assisted departure of civilian noncombatants and nonessential military personnel from danger in an overseas country to a designated safe haven. Overseas evacuations could occur under a variety of circumstances, including civil unrest, military uprisings, environmental concerns, and natural disasters.
This year's Japanese-led NEO exercise included foreign liaison officers (FLO), and embassy and military representatives from the countries of France, Germany, Italy, Comoros, Kenya, Djibouti, Uganda, Spain, and South Korea, as well as all branches of the U.S. military, and the JGSDF.
"This NEO exercise was important to strengthen the U.S. and Japanese relationship, as well as improve the relationship with coalition partners in Africa," said Japanese Capt. Hiroki Sempuku, JGSDF FLO assigned to CJTF-HOA. "It was a good opportunity for the Japanese military to learn and share knowledge and skills."
During the multi-day event, coalition members conducted multinational discussions, field training exercises, and NEO tracking system demonstrations.
Each event provided a chance for African partners collectively to demonstrate and exchange views on their respective country's readiness.
"We never know when a disaster or other crisis may occur," said Dickens. "In this small area of Djibouti, we have many international partners working on the African continent. Each country comes with a unique set of skills and contributions to bring to the table to respond. As we learned this week, we may need to rely on another country's particular skill set to meet the needs of our own and other citizens."
Dickens added that he believed the exercise was successful and the level of pre-planning and communication with Japanese counterparts was outstanding.