Command Master Chief Petty Officer Alex Hebert, U.S. Navy
Command Senior Enlisted Leader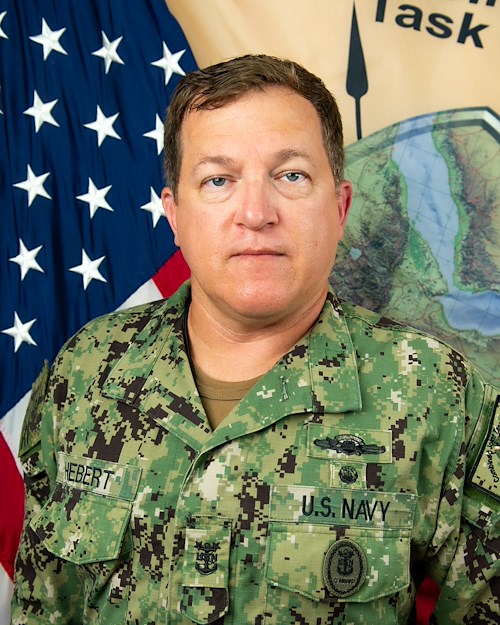 Command Master Chief Petty Officer Alex Hebert, serves as Command Senior Enlisted Leader, Combined Joint Task Force- Horn of Africa.
MCPO Hebert, a native of Houma Louisiana, enlisted in the U.S. Navy in 1991. He is a graduate of the U.S. Navy Senior Enlisted Academy (Class 156/Brown), and Master Chief Petty Officer of the Navy Enlisted Leadership School 2016. He is also a Keystone 17-2 Fellow.
At sea, he served as an Aviation Electronics Technician aboard USS Saratoga (CV 60), USS Enterprise (CVN 65) USS Kennedy (CV 67) and USS Roosevelt (CVN 71).
His shore tours include Naval Air Station (NAS) Oceana Air Intermediate Maintenance Detachment, where he developed an interest in Navy Law Enforcement and served as a member of NAS Oceana's auxiliary security force. This led to his decision to transition to the Master-at Arms (MA) rating. Upon completion of MA "A" school, he reported to Naval Support Activity (NSA) La Maddelana, Italy as a watch commander and security leading petty officer. In 2002, he was selected as NSA La Maddalena's Sailor of the Year. Other shore tours include Mobile Security Squadron 2 DET 23, also known as "Rabid Dogfish"; Center for Security Forces (CENSECFOR) DET Chesapeake, deploying as an individual augmentee to Kunar, Afghanistan, where he served as a police mentor with a provincial reconstruction team; and Riverine Squadron 2 DET 22 as leading chief petty officer. His Command Master Chief tours include Riverine Squadron 2; Mobile Security Squadron 2; Mobile Security Squadron 12; Commander Task Force 56.7; Coastal Riverine Squadron 2; Assault Craft Unit 4 and Center for Security Forces. On Sept. 28, 2020, CMDCM Hebert became the Command Senior Enlisted Leader for Combined Joint Task Force – Horn of Africa.
His personal awards include the Bronze Star Medal, Meritorious Service Medal (three awards), Navy and Marine Corps Commendation Medal (two awards) Navy and Marine Corps Achievement Medal (seven awards), Navy Combat Action Ribbon, Army Combat Action Badge, and other campaign and unit awards.
Other pages in this section