Chief Master Sergeant Jason P. Colón, U.S. Air Force
Command Senior Enlisted Leader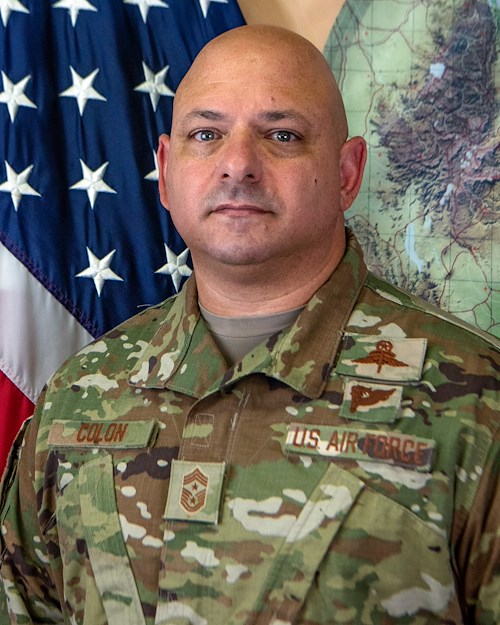 Chief Master Sergeant Jason P. Colón serves as the Command Senior Enlisted Leader for the Combined Joint Task Force-Horn of Africa (CJTF-HOA), United States Africa Command (USAFRICOM), Camp Lemonnier, Djibouti. He leads a dynamic operational headquarters composed of 2,000 joint and coalition personnel and is charged to effectively counter violent extremist organizations and malign actors (Al-Shabab, Al-Qaida, Islamic State) and to conduct operations as part of a comprehensive whole-of-government approach to enhance partner nation capacity, promote regional security and stability, dissuade conflict, and protect U.S. and coalition interests in East Africa.
Chief Colón enables nine lines of effort; African partnership, Security cooperation, Africa Maritime Law Enforcement Partnership (AMLEP) Program, International Military and Education Training, State Partnership Program, Global Peace Operations Initiative, Foreign Military Sales, Foreign
Humanitarian Assistance and Military Coordination Cell (Somalia). Additionally, he leverages the command's strategic location's flexibility as a critical power projection platform to diplomatically collaborate with coalition forces, and interagency and intergovernmental organizations in
order to achieve a unified effort through peacekeeping operations, and joint and combined operational training and exercises. Chief Colón promotes security force assistance engagements in support of security cooperation, and on order enables crisis response and contingency operations in order to maintain operational access. Furthermore, he strives to provide a degree of
economic and social advancement to regional leaders in order to allow for free and fair markets, which contribute to the global economic development. CMSgt Colón's leadership background includes various deployed and garrison duties from Squadron to MAJCOM levels, held at Air Force, Army, and Joint assignments. He is both a Military Free Fall and Static Line Master
Jumpmaster and has earned the US Army's Pathfinder badge and the US Marine Corps' Parachutist Insignia (Gold Wings), along with eight foreign parachutist wings. Prior to assuming his current position, he was the Command Chief, 628 Air Base Wing, Joint Base Charleston, SC.
His major awards include Legion of Merit, Defense Meritorious Service Medal, Meritorious Service Medal, Air Force Commendation Medal, Army Commendation Medal, Joint Service Achievement Medal, Air Force Achievement Medal, Army Achievement Medal, Air Force Recognition Ribbon, Nuclear Deterrence Operations Service Medal, United Nations Medal, North Atlantic Treaty Organization Medal, Department of State Meritorious Honor Award, Kosovo Security Force Medal for Selfless Service.
Other pages in this section