Command Sergeant Major Jeff L. Dintleman, U.S. Army
Command Senior Enlisted Leader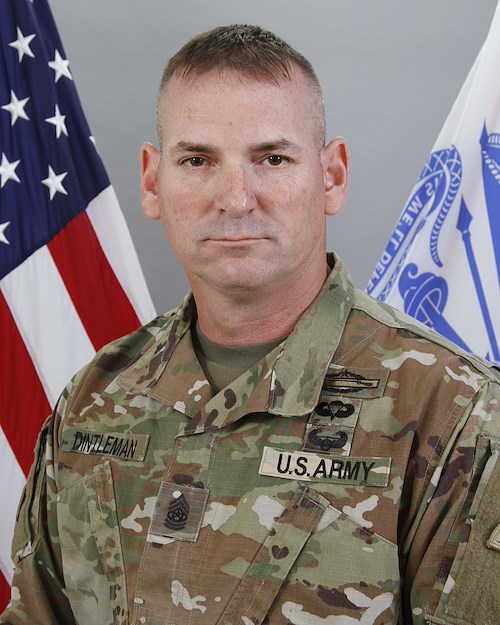 Command Sergeant Major Jeff L. Dintleman serves as Command Senior Enlisted Leader, Combined Joint Task Force- Horn of Africa.
CSM Dintleman enlisted in the Oregon Army National Guard Army in Jan. 1986 as an Infantryman from Medford, Oregon. After completion of Basic and Advanced Individual Training at Ft. Benning, GA, he was assigned to 1-186 IN, Oregon Army National Guard, transferring to Active Army in 1987. While on active duty, CSM Dintleman accepted a position as Team Leader for newly developed COHART unit, 4-17 IN, FT. Ord, California. He also deployed to Panama in October 1989 as part of Operation Nimrod Dancer. In December 1989, his unit led the initial invasion into Panama during Operation Just Cause. CSM Dintleman separated from the Army in 1990 to work for the U.S. Forest Service, but reenlisted in the Oregon Army National Guard in 1996, and accepted an AGR position in 1999.
CSM Dintleman has served in every key leadership position in the Infantry from Team Leader to CSM, and has deployed multiple times to various locations such as Afghanistan and Egypt. In Oct. 2016, CSM Dintleman was selected and served as Operations SGM for 41 IBCT. In Mar 2019 he was selected as the Oregon Army National Guard G3 Sergeant Major, as well as Battalion CSM for the 1-186 IN. In October 2019, CSM Dintleman deployed his Battalion and members of 1-200 New Mexico National Guard to CJTF-HOA as the Task Force Guardian (SECFOR) CSM.
CSM Dintleman's military education includes all Noncommissioned Officer Education system courses. He is a graduate of the U.S. Army Sergeant Major Academy (Non Resident 41). His additional military training includes Ranger School, Airborne School, Air Assault, and Military Mountaineer School, Rappel Master Course.
CSM Dintleman's awards and decorations include the Meritorious Service Medal with two oak leaf clusters, Army Commendation Medal with five oak leaf clusters, Army Achievement Medal with four oak leaf clusters, Ranger Tab, Combat Infantry Badge with star, Expert Infantry Badge, Parachutist Badge and Air Assault Badge.
CSM Dintleman has been inducted into the Order of Saint Maurice.
Other pages in this section