Captain Michael R. Van Poots, U.S. Navy
Chief of Staff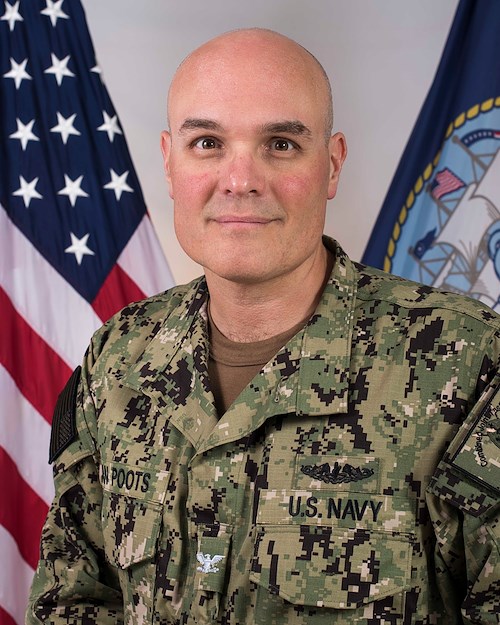 Captain Michael R. Van Poots serves as Chief of Staff, Combined Joint Task Force-Horn of Africa.
A native of Sparta, N.J., he was commissioned in 1995 through the Naval Reserve Officer Training Corps at Rensselaer Polytechnic Institute in Troy, N.Y. with a degree in Engineering Physics.
Following nuclear power and basic submarine training, Captain Van Poots reported to USS BALTIMORE (SSN 704). He conducted several missions, serving as Electrical Assistant and qualifying as Diving Officer and Engineering Officer. He reported to USS MONTPELIER (SSN 765) in Norfolk in October 1997, serving as Reactor Controls Assistant, Chemical and Radiological Controls Assistant, Diving Officer, Quality Assurance Officer, and Damage Control Assistant. He qualified in Submarine Warfare and as a Prospective Nuclear Engineer Officer.
Captain Van Poots transferred to the Navy Reserve in August 2000, serving in various billets with NR COMSUBRON SIX Detachment 504, NR COMSUBGRU TEN Force Protection Detachment 2, and NR USFF MOC GRBO.
His command tours include NR RECRUITSUPUNIT Detachment 428, NR NSF NSA NAPLES Detachment C, NR NSF SUGAR GROVE, NR USW OPERATIONS Detachment N, NR NRL S&T Detachment 104, NR NRL S&T Detachment 105, and NR HQ NRL S&T Detachment 100. In 2009, he was recalled to active duty as Inspector General JTF-GTMO in Guantanamo Bay, Cuba. Prior to mobilizing to CJTF-Horn of Africa, Captain Van Poots served as Chief of Staff for the Office of Naval Research Reserve Component.
His personal awards include the Defense Meritorious Service Medal, Meritorious Service Medal with gold star, Navy Commendation Medal with two gold stars, Navy Achievement Medal with four gold stars, and numerous campaign and unit awards.
Captain Van Poots holds a Bachelor of Science in engineering physics from Rensselaer Polytechnic Institute, an M.B.A. from Rensselaer Polytechnic Institute and a Ph.D. in applied management and decision sciences from Walden University. He received instruction at the U.S. Navy Anti-terrorism Warfare Development Center, is a graduate of the Joint and Combined Warfighting School and the Naval War College.
Other pages in this section