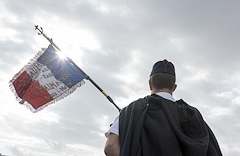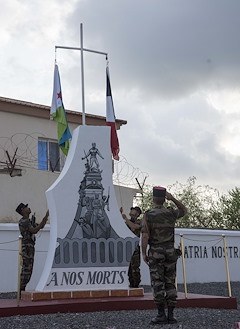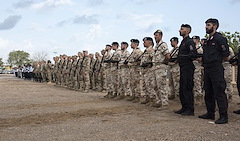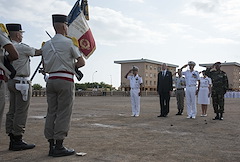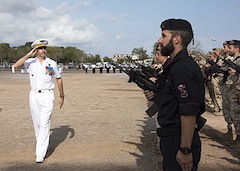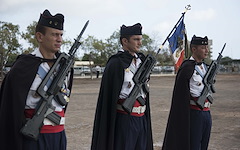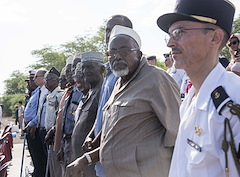 Troop formations from seven nations march around the perimeter of the barren square. Commands are called in French, and hundreds snap to attention in unison. Bugles play and flags are paraded. All the prestige and pageantry are for one goal – remembrance.
For nearly 100 years nations have annually commemorated the end of World War I on Nov. 11 with an Armistice Day ceremony.
"The meaning of the ceremony is to remember all nations that took part in the first world conflict almost 100 years ago," said French Air Force Brig. Gen. Phillip Montocchio, Commander French Forces, Djibouti.
Ceremonial commands were issued in French to troops from France, Djibouti, the United States, Germany, Italy, Spain, and Japan who gathered to remember the sacrifices of those who served before them and why they fought.
"We are in a unique place in the world," said Montocchio. "We can gather all the nations and military detachments that were friends or enemies in the past, and today we are all together."
Montocchio stressed the importance of continuing the traditions of Armistice Day for past, present and future generations.
"It is important to remember the sacrifice of all the generations," said Montocchio. "What they did was with the objective of giving to the future generation a peaceful world."
Veterans of the Somali Battalion, who fought for the French during World War II, were the guests of honor during the event.
"The Somali battalion had great victories fighting the Germans," said French Army Capt. Thibaut Hardy, 5th Marines traditions officer. "They had people from Ethiopia, Yemen, Djibouti, Comoros, Madagascar, and other former French colonies."
The veterans of this unit bring with them a rich tradition to include their unit flag, flown in both WWI and WWII.
"They were committed along with the 5th Marine Battalion during the whole war," said Hardy. "The battalion flag is full of history because it survived through two wars [alongside] the French. We keep it as a legacy from our elders and our Djiboutian brothers in arms."
Recalling those who sacrificed life and limb allows the current generation to share their legacies with those who will come after.
"World War I means a lot of sacrifice, and it is our duty to remember," said Hardy. "We have to commemorate events because it permits us to educate the younger generations that liberty comes at a cost and nothing is given."