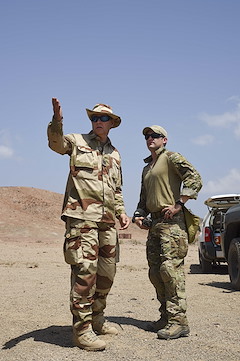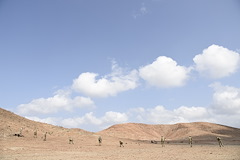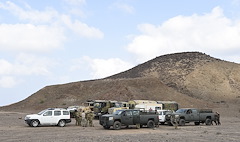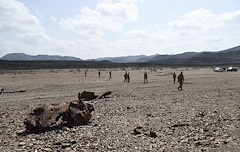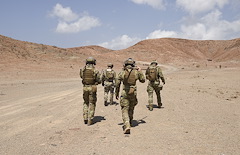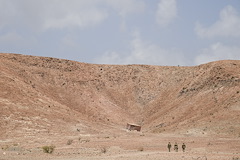 DJIBOUTI -- U.S. Navy Sailors with Explosive Ordnance Disposal Mobile Unit (EODMU) 6, Task Force Sparta, assisted a French EOD team with range clearance operations, Oct. 22, 2016, at a range near Koron, Djibouti.
During the mission, both French and American EOD teams operated bilaterally to clear different sections of the range, with operations including sweeping the designated areas, identifying hazards, and disposing of any identified hazards.
Along with the practical aspect of keeping the range free of hazardous ordnance, the clearance operation also gave the French and American service members the opportunity to continue building upon the partnership that both countries are invested in, as they continue their respective missions in East Africa.

"They're very easy to work with," Chief Petty Officer Adam Bartch,
EODMU 6 range safety officer, said of his French counterparts. "They're approachable, they are very professional, and they have a good sense of what their role is here in Djibouti. And they're accomplishing that very well."
The range near Koron is cleared once a year, and this was the first time in at least three years that a Camp Lemonnier EODMU team assisted the French with range clearance operations, according to U.S. Marine Corps Gunnery Sgt. Jonathan Perrine, the range coordinator.
"Overall, the coordination was smooth," said Lt. Alex Eagan, EODMU 6 officer in charge. "Both sides were well-versed in the plan and confident the other elements would perform their role safely and effectively."
Capt. Philippe, a member of the French military EOD team, explained that, while this was his first time working jointly with the American military, all were able to coordinate together to accomplish the task.
"I'll propose to continue in this way," said Philippe, while commenting on his interest to continue working with the Americans on future range clearances and training opportunities. "I think it's a good [experience]."