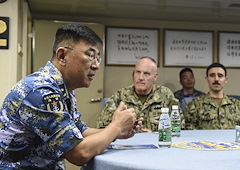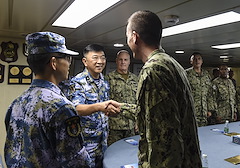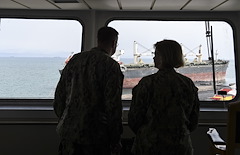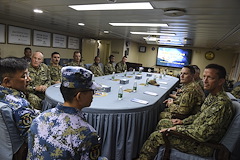 CAMP LEMONNIER, Djibouti—Medical personnel from Camp Lemonnier visited the Chinese Navy Hospital Ship, Ark Peace, on August 28.
Once the medical personnel arrived at the Port of Djibouti where the Ark Peace was docked, they were greeted by members of the Chinese Navy. From there, the U.S Navy Sailors assigned to the Expeditionary Medical Facility (EMF) were guided through the massive vessel, stopping in each of the corridors to get a firsthand view of the various medical specialties offered onboard the ship. During that time, they were afforded the opportunity to share knowledge and ask questions to the Chinese Navy's hospital personnel.
During the tour, EMF members met with Rear Admiral Guan Bolin, the task force commander of Mission Harmony 2017, where he expressed his gratitude for their visit and offered use of the ship, if needed, for emergency medical services.
"Our visit to the Ark Peace was two-fold; our professional interest in seeing what capabilities are available on a hospital ship from a foreign country and improving relations between countries in the event that we find ourselves in a situation where we need assistance," said U.S. Navy Capt. John York, EMF officer in charge. "I believe it is incumbent on nations that routinely use the open ocean to know what is available and to have established some sort of relationship in case the need arises for assistance."
Following their meeting, EMF personnel viewed a video detailing the Ark Peace's history and accomplishments over the past decade.
"The ship and its capabilities are impressive," said York. "They have a wide spectrum of medical specialties and capabilities and are clearly engaged in medical diplomacy during this port visit to Djibouti. The EMF team enjoyed meeting our colleagues and we hope further interactions continue in the future."