Colonel Brian L. Medcalf, U.S. Army
Chief of Staff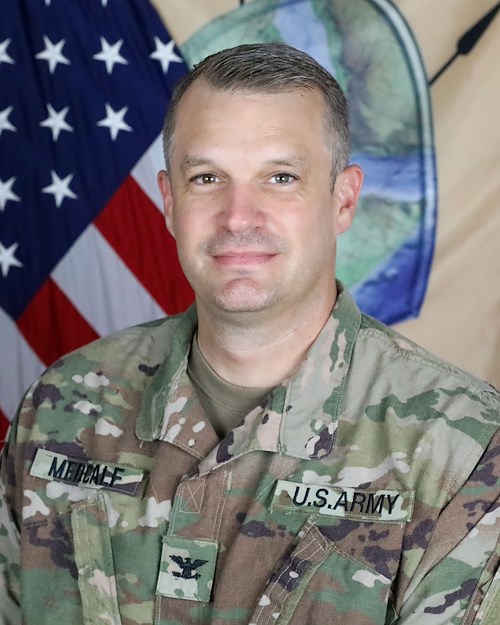 Colonel Brian L. Medcalf serves as Chief of Staff, Combined Joint Task Force-Horn of Africa. A native of Clearwater, Nebraska, he received his commission as an engineer officer from the University of Nebraska-Lincoln's Reserve Officer Training Program in 1998. He is a graduate of the Engineer Officer Basic and Advanced courses, the Chemical Officer Captains Career Course, Command and General Staff College, and the United States Army War College in July 2021.
Colonel Medcalf was initially assigned to the 588th Engineer Battalion (Combat), 4th Infantry Division, at Fort Hood, Texas and served as a Platoon Leader and Operations Officer. Colonel Medcalf transitioned from Active Duty to the 111th Engineer Battalion (Combat), 36th Infantry Division, Texas Army National Guard. He took command of Alpha Company in August 2004 and prepared the unit for deployment to Iraq. Colonel Medcalf served as the Commander and Deputy Chief of the Multi-National Force – Iraq Joint Visitors Bureau, responsible for providing security and transportation for distinguished visitors in and around Iraq from January 2005 thru December 2005. He served as the Commander of the 126th Chemical Battalion in Omaha, Nebraska from June 2016 thru January 2019, and is the current Commander the 67th Maneuver Enhancement Brigade in Lincoln, Nebraska both with the Nebraska Army National Guard.
His personal awards include Meritorious Service Medal, Bronze Star, the Army Commendation Medal (3 Awards), the Army Achievement Medal (5 Awards), the Nebraska National Guard Commendation Medal (1 Award) and the Nebraska Emergency Service Ribbon (1 Award).
Colonel Medcalf's civilian education includes a Bachelor of Science in Civil Engineering from the University of Nebraska, a Masters of Engineering from the University of Texas-Arlington, a Masters of Business Administration from Tarleton State University, and a Masters of Strategic Studies from the U.S. Army War College.
In his civilian capacity, he is a Sr. Design Engineering Manager for the Kiewit Corporation in Lonetree, Colorado. He sponsors the design of infrastructure transportation projects that typically include survey, roadway, drainage, structures and electrical scopes of work. Colonel Medcalf is a licensed Structural Engineer in numerous states/provinces across the U.S. and Canada.
Other pages in this section