Foreign Service Officer Sadie Tucker, U.S. Department of State
Foreign Policy Advisor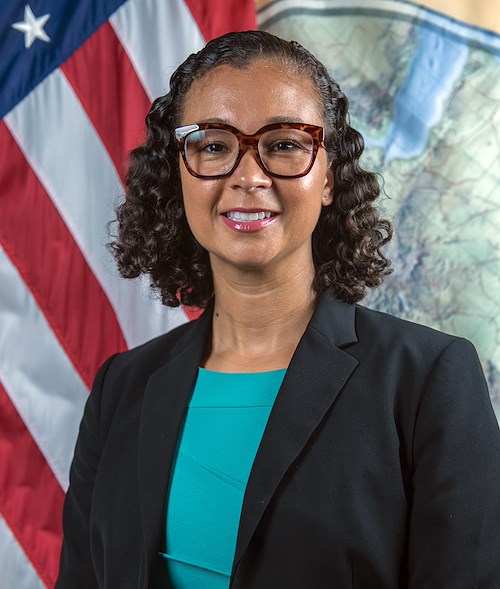 French translation below English version
Sadie Tucker serves as the Foreign Policy Advisor (POLAD) for the Combined Joint Task Force - Horn of Africa (CJTF -HOA). In this position, she advises the Commanding General and her staff on foreign policy matters related to CJTF-HOA's missions and activities across the continent of Sub-Saharan Africa. Ms. Tucker joined the CJTF-HOA leadership team on August 19, 2022.

Her recent assignments in the State Department include Strategy Advisor in the Bureau of International Narcotics and Law Enforcement, Regional Macroeconomist and Cyber Officer in the Bureau of African Affairs. Ms. Tucker joined the U.S. Department of State in 2004 and has served in Burkina Faso, Ghana, Nigeria, and Angola.

She holds a Bachelor's degree in African Studies from Howard University and a Master's degree from the Fletcher School of Law and Diplomacy at Tufts University. She is fluent in French and Portuguese and is the proud mother of three young men.
___________________Please read below for French translation__________________
Sadie Tucker occupe le poste de conseillère en politique étrangère (POLAD) pourla Force opérationnelle interarmées conjointe - Corne de l'Afrique (CJTF -HOA). Àce titre, elle conseille le général commandant et son état-major sur les questionsde politique étrangère liées aux missions et aux activités du CJTF-HOA à travers lecontinent de l'Afrique subsaharienne. Mme Tucker a rejoint l'équipe dirigeante duCJTF-HOA le 19 août 2022.
Ses plus récentes missions au sein du Département d'État comprennent un postede conseillère en stratégie au Bureau des stupéfiants internationaux et durenforcement de la loi, un poste de macroéconomiste régional et un poste deresponsable du cyberespace au Bureau des affaires africaines. Mme Tucker arejoint le département d'État américain en 2004 et a servi au Burkina Faso, auGhana, au Nigeria et en Angola.
Elle est titulaire d'une licence en études africaines de l'université Howard et d'unemaîtrise en droit et diplomatie à la faculté de Fletcher de l'université Tufts. Elleparle couramment le français et le portugais, elle est également mère exemplaire de trois jeunes hommes
Other pages in this section