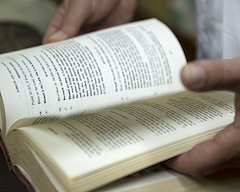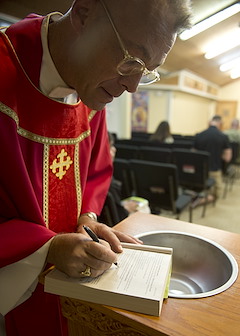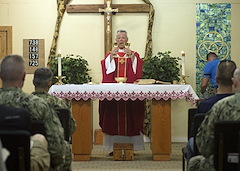 Spiritual resilience is one of the requirements in a joint environment that is vital to the success of any mission. Providing encouragement, the right equipment and empowering the members to complete the mission successfully is the vision of Combined Joint Task Force-Horn of Africa (CJTF-HOA) Religious Affairs.
The Religious Affairs staff is here to assist CJTF-HOA members with their spiritual development through counseling, boosting morale with team building exercises and providing religious services.
"As a Chaplain, it is all about the three Es," said U.S. Army Chaplain Maj. Lawrence Allison, CJTFH-HOA Religious Affairs deputy director. "First to encourage, be an encourager to all no matter what their situation; second, equip members with the necessary tools to solve or cope with their challenges and life; lastly to empower, empower them with the desire and the will to focus and complete their mission."
According to U.S. Navy Chaplain Capt. Sean O'Brien, CJTF-HOA Religious Affairs director, there are people from the Army, Navy, Marine Corps, Air Force, European partners and East African partners who live here and they are provided the resources to freely practice their faith.
The Chaplains offer religious services across a number of faith groups. If they are unable to provide a service for a particular belief, the Chaplains office will obtain the resources and the training needed to offer services for members of any faith.
"The Religious Affairs office is here for anybody, no matter what faith, even if you don't believe in God and you just need someone to talk to or to boost your morale," said O'Brien. "Talking with the chaplain is absolutely confidential," this eases concerns of service members and assist in opening up about issues going on in their lives.
Whether the Chaplains are here at Camp Lemonnier helping CJTF-HOA personnel or traveling through their area of responsibility, they say that it is rewarding to know that they have been able to help individuals either through facilitating religious services or just being there to listen.
"That is a gift as a Chaplain, when personnel open up to you with the things they do not share with anybody else," stated O'Brien.
Allison, who visits members throughout the AOR, says he has been able to share his Hawaiian upbringing with many first-time deployers, who are also from Hawaii, teaching them to play the Ukulele and singing traditional Hawaiian songs with them to brighten their day.
"Using my counseling background and skill set, I do personality assessments," said Allison. "It is a team building exercise that helps to facilitate discussion and dialogue with regard to how we can manage and work with different leadership styles and personalities during deployments to help keep morale positive."
According to Allison, this type of team building exercise helps to maintain a positive attitude by getting out in front of issues that arise.
"It's not about me, it is their story and life that matters," said Allison. "Hearing their stories and seeing how really connected they are to sacrifice and service, I've always been amazed. No matter what their jobs are, they are here defending freedom."