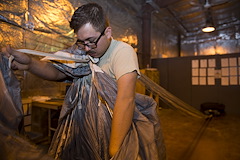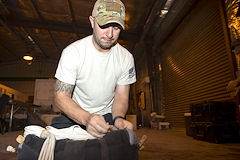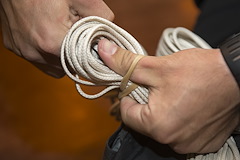 The United States Air Force uses more than 20 types of parachutes to conduct personnel recovery, airdrops and asset insertion into a combat zone. Knowing what type of parachute is required for each mission and verifying the safety of those parachutes is the job of a USAF parachute rigger.
This responsibility on Camp Lemonnier, Djibouti is up to the 82nd Expeditionary Rescue Squadron Aircrew Flight Equipment riggers, deployed from Moffett Federal Airfield, CA, 129th Rescue Wing, Air National Guard.
"Being a rigger, everything we do has to be 100 percent," said Tech. Sgt. Isaac Corniel, 82nd ERQS AFE non-commissioned officer in charge. "There is no room for mistakes. There's no room for error. Their lives are in our hands. Even if we have a small twist in a line we want to make it straight, as it can mean someone's life."
Being deployed to Djibouti has allowed the 82nd ERQS AFE to train on real world missions unlike any other training they can get at home station.
AFE are required to pack a variety of chutes in a variety of conditions throughout the world to meet mission needs. The parachutes can take from 35 minutes to several hours to inspect and repack. Along with the complex quality control measures that must be performed.
"We just try to be the best that we can. We preach quality, quantity and efficiency," Corniel said. "We are combined with a variety of military forces being deployed, so our guys get to train on more scenarios than they would at home."
According to Corniel, being deployed to Africa has allowed the team here to have hands-on experience with more air drop missions, where as back home they would only provide chutes for one or two drops a month. The AFE Airmen have grown their understanding on the job to make their deployment a success.
"The guys have been great. They all live up to the riggers creed; they know now what it is to be a rigger," Corniel concluded. "We are a part of something special and we strive to keep the history of excellence between the pararescue teams and riggers."
RIGGERS CREED:
I will keep constantly in mind that until men grow wings their parachutes must be dependable.
I will pack every parachute as though I am to jump with it myself, and will stand ready to jump with any parachute which I have certified as properly packed.
I will remember always that the other man's life is as dear to him as mine is to me.
I will never resort to guesswork, as I know that chance is a fool's gold and that I, a rigger, cannot depend on it.
I will never pass over any defect, nor neglect any repair, no matter how small, as I know that omissions and mistakes in the rigging of a parachute may cost a life.
I will keep all parachute equipment entrusted to my care in the best possible condition, remembering always that little things left undone cause major troubles.
I will never sign my name to a parachute inspection or packing certificate unless I have personally performed or directly supervised every step, and am entirely satisfied with all the work.
I will never let the idea that a piece of work is "good enough" make me a potential murderer through a careless mistake or oversight, for I know there can be no compromise with perfection.
I will keep always a wholehearted respect for my vocation, regarding it as a high profession rather than a day-to-day task, and will keep in mind constantly my grave responsibility.
I will be sure-always.