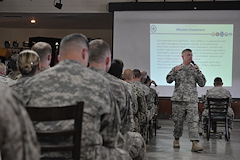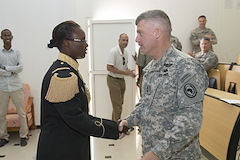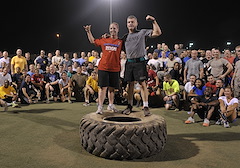 Former U.S. Army General Douglas McArthur once said, "A true leader has the confidence to stand alone, the courage to make tough decisions and the compassion to listen to the needs of others." For more than a year, Combined Joint Task Force-Horn of Africa has been privileged to be guided by such a true leader.
Maj. Gen. Wayne W. Grigsby, Jr., is set to relinquish command of CJTF-HOA on April 14, 2015, after serving 16 months as the commander of the singular enduring U.S. military presence on the continent of Africa.
"Maj. Gen Grigsby is an outstanding general officer who has been an inspiration and an expert leader to the men and women of CJTF-HOA," said U.S. Marine Corps Sgt. Maj. Bonnie Skinner, CJTF-HOA senior enlisted leader. "His strategic, operational, and tactical expertise had an immediate and intense impact and will surely have a positive impact on CJTF-HOA for years to come."
With an area of responsibility spanning 11 countries and 2.4 million square miles, Grigsby certainly faced a tremendous challenge upon assuming command. Grigsby immediately set out to not only foster a regional approach to the mission, but to ensure that every person, from lower enlisted to staff officers, understood the mission and the essential role each member played in successful mission accomplishment.
One of Grigsby's most notable achievements was linking the East Africa Campaign Plan (EACP) Lines of Effort with the country objectives of the Department of State with the military needs of the East Africa partner nations. He built relationships with Djibouti government leaders and ministers of government to allow successful negotiations in cooperation with the U.S. Embassy, Department of State and U.S. Africa Command. These negotiations produced an alignment of efforts with all parties in the East Africa region. Additionally, he worked closely with service component commanders and AFRICOM to rework the CJTF-HOA joint manning document, ensuring he had adequate personnel meeting the skills and qualification requirements to successfully execute the EACP mission.
In order to further a truly regional approach in East Africa, Grigsby envisioned the capabilities of East African countries being directly involved in tackling the challenges of the region. His innovative approach led to the establishment of the Fusion Action Cell, where representatives from east African nations work side-by-side with each other and their U.S. partners; allowing for the free flow of information and develop trust among all teammates.
Grigsby further bolstered the regional approach by improving Partner Nation counter terrorism capacity. He did this by capitalizing on existing capabilities of regional partners to neutralize violent extremist organizations. Through this approach, he championed military-to-military, civil military and humanitarian assistance training for Troop Contributing Countries in support of the African Union Mission to Somalia.
Grigsby was also responsible for the development, preparation and coordination of future operations, plans and exercises. His efforts led to the stand up of the first-ever East African Response Force; a joint service crisis response team designed for rapid mobilization to protect U.S. Embassies and other U.S. regional interests should the need arise.
Grigsby holds a strong belief in a military fully dedicated to the Profession of Arms and incorporated these principles into his regional approach. He directly engaged with the Partner Nations' chiefs of defense to understand what the Profession of Arms meant to each individual country and encouraged them to instill these principles at all levels of military service. To solidify this vision, he engaged with partner nation militaries, meeting with top military leaders and mentoring junior members at service academies.
Strategic insight was not Grigsby's only strength. He cared deeply about the people he led, often referring to them as his "Blood and Treasure". He encouraged all people, regardless of service branch or rank, to be a leader first, to be an expert at their craft and to be a good teammate. He fostered a culture of open communication by listening to ideas and empowering each member to bring their ideas to fruition.
In spite of his busy schedule, Grigsby could often be found around Camp Lemonnier, directly engaging with military and civilian team members at all levels to gain a first-hand perspective of their morale and well being. He also believed that physical training was not only essential to military service, but was also critical to forming bonds among teammates. He personally participated in regular PT sessions with both officer and enlisted forces.
Grigsby will depart CJTF-HOA to assume command of the 1st Infantry Division at Fort Riley, Kansas. Although he is leaving the Horn of Africa, his vision and innovation will surely leave a lasting impact on the region for years to come.