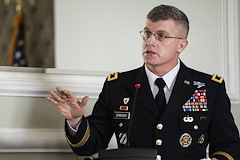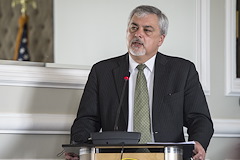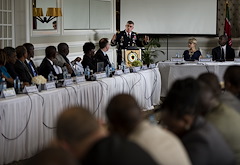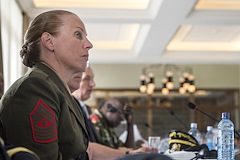 To run an effective organization, "perfect" leadership can be the key to growing trust and guidance with those you lead. Having a "perfect" leadership style, "I will be there for you and you will be there for me". Within any organization, "perfect" leadership helps to build a Profession of Arms ingrained with trust and duty to your people and country.
In coordination with U.S. Africa Command, Combined Joint Task Force-Horn of Africa and the Africa Center for Strategic Studies, East Africa's senior leaders gathered for the inaugural Senior Leaders Summit April 8-10 in Nairobi, Kenya. Themed "Professionalization of Forces in the Horn of Africa," the purpose of the summit was to discuss the leader development and shared best practices in the Horn of Africa and East Africa.
The conference hosted senior leadership from U.S. Africa Command, notably Ambassador Phillip Carter, (Deputy to the Commander for Civil-Military Engagement of United States Africa Command), CJTF-HOA and East Africa nations.
"Operational effectiveness is not the only thing that matters when building and maintaining a profession of arms," said Maj. Gen. Wayne W. Grigsby, Jr., CJTF-HOA commander. "While it sounds simple enough, the Profession of Arms is not an easy concept to understand, and it is one we continue to grapple with on a daily basis. The Profession of Arms is not momentary. It is enduring; it is constant; it transcends today's leaders and spans the next generation and beyond."
According to Grigsby, the Profession of Arms stretches from the lowest enlisted soldier to the highest general officer. As leaders, we must share the key attributes of leadership, character, competence, trust, and duty. Collectively, these key attributes define a Profession of Arms.
The conference took these main concepts and applied them to each nation's current leadership styles, allowing senior leaders to look at the way they support their troops and build a stronger force within their nations.
According to Carter, no individual has the only answer on how to build the Profession of Arms within each country, because there is not just one answer. The answer is unique for each country's leaders because each country, military, and its security sector is unique from the institutional to the tactical.
"The Profession of Arms, whether military, gendarmerie, police, coast guard, or border patrol, on land or on sea, is so much more than the tactical training and skill development required to fire a weapon," said Carter. "But often, when we talk about professionalization, we end up talking about tactical skills and equipment. Skills and equipment are absolutely important, but for long-term professionalization of any security organization, those other elements are much more important."
The growth of the Profession of Arms must not stop here with this conference, Grigsby concluded. The senior leadership for all the East African nations must work together to build a relationship around the Profession of Arms through leadership, character, competence, trust, and duty.
"I am humbled to have addressed these senior leaders as a valued partner in the Profession of Arms. It has been my privilege to serve my government in East Africa as the Commander of the Combined Joint Task Force - Horn of Africa, and it has been my pleasure to serve alongside my East Africa partners," Grigsby said. "I have become personally invested in the peace and stability of East Africa. I am honored to call my East African Partners, brothers and sisters in the Profession of Arms."