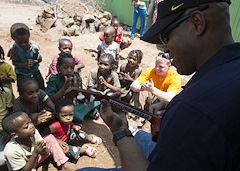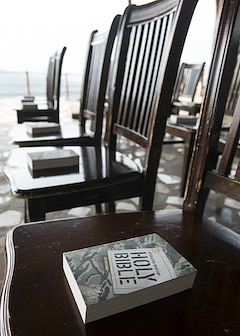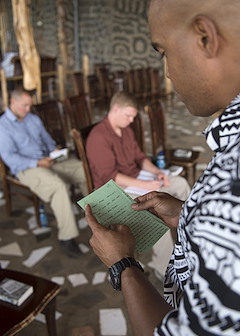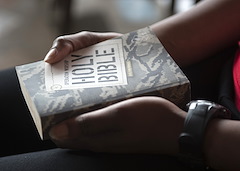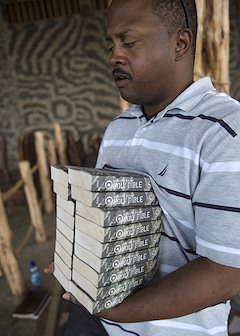 "Aloha" is a word that means hello and goodbye in Hawaiian. For U.S. Army Chaplain Maj. Lawrence Allison, Combined Joint Task Force-Horn of Africa Religious Affairs deputy director, this simple word means more than just that.
"HA" in the word Aloha is Hawaiian for the breath of life. Ancient Hawaiians would breathe a part of their breath onto a person when they greeted them and when they departed. It was a communication gesture to come and go with the "Breath of Life".
Born in Cleveland, Ohio, but raised in Hawaii, Allison shares his Hawaiian upbringing and the Aloha spirit wherever he goes.
"I do my best to focus on sharing the ALOHA," said Allison. "I will often take my ukulele around, play songs and sing with the military members in hopes that it will lift their spirits, especially during deployments."
According to Allison, sharing the Aloha and having faith in God is a big part of the Polynesian culture and community. Respect is taught and lived from a very young age including respecting your elders and giving to others.
"We didn't have much growing up, but we had each other, the love and support of family and the Polynesian community in Hawaii," said Allison. "My mother always told us stories about my grandfather who joined the Navy in American Samoa and brought his nine children to Hawaii for a better life."
With the inspiration from his grandfather, the support and encouragement from his mother, in 1994, Allison decided to enlist in the Army at the age of 24 as a dental specialist in the Army Reserve at the Honolulu Military Entrance Processing Station.
According to Allison, the transition from civilian to military life was smooth and a great experience. Having worked for two years in Los Angeles on a Latter-Day Saints mission at the age of 19, helped prepare him with the discipline needed to be a leader.
"Serving that mission helped me with living on my own, learning to be a leader and standing on my own two feet in a city with a population which at the time was 7.9 million," said Allison. "It taught me discipline and it helped me learn more about life and serving others."
After four years of enlistment, Allison joined the Reserve Officers Training Corps program at Utah State University in Logan, Utah. Allison obtained his Bachelor of Arts degree in Family and Human Development in 1998 and received his officer commission while on active duty serving as a Chemical Officer.
"I had the blessing to command twice at the company grade level, and then I served as a small group leader for our Chemical Officer Basic Course at Fort Leonard Wood, Mo.," said Allison. "It was a great assignment that assisted in my transition to the Chaplain Corps."
In 2007, Allison was accepted into the Army Chaplain Candidate program where he began theological studies at Oklahoma Christian Graduate School of Theology in Edmund, Okla. Allison later obtained his Master of Arts degree in Bible and Family Ministry and Master of Behavioral Science degree in Marriage and Family Therapy.
Allison faced a number of struggles while in seminary; particularly challenging was the study of Greek and its application to scripture. However according to Allison his greatest challenges was maintaining a job and home while having to commute 70 miles to evening classes every other day.
With Allison's faith in God, prayers and the love and support of family, he was able to overcome these challenges and pursue what he felt he was called to do: serve others as a chaplain.
After obtaining two Master's degrees, Allison was accepted into the Army Reserve Chaplain Corps in May 2010. In 2012, he deployed to Kandahar Afghanistan serving as the Command Chaplain for the 311th Sustainment Command in support of Operation Enduring Freedom.
"Serving in Afghanistan and attending the memorials of Soldiers had a great impact on me as a chaplain," said Allison. "Knowing that those service members made the ultimate sacrifice impacted my soul. It helps me to be thankful and to focus more on the things that matter most; family, relationships, being a good person and helping others."
According to Allison, listening to people's stories is one of the perks of being a chaplain. Allison believes that everyone is unique and special. He says serving with such amazing people and true professionals in our military is truly a humbling experience.
Assisting military members with their spiritual development through counseling, boosting morale with team building exercises and providing religious services is not only a job, but something that Allison loves to do.
"As a chaplain, it is all about the three Es," said Allison. "First is to encourage; be an encourager to all no matter what their situation. Second, equip members with the necessary tools to solve or cope with their challenges and life. And the third E is to empower; empower them with the desire and the will to focus and complete their mission."
With 19 years of military experience lifting the spirits of service members, Allison is planning on retiring when he reaches 30 years of military service.
"When I retire I will transition to 'Troops to Teachers' and be a teacher, a guidance counselor or a football coach for the junior high age group in the Killeen Independent school district, in Texas," said Allison. "This has been my dream job to wear an Aloha shirt and flip flops to school each day and play my ukulele for the kids."
"This is where the 'front lines' of our future is, with our youth in the classroom and in the home."