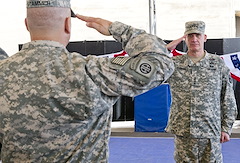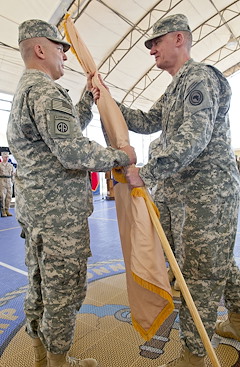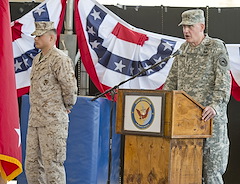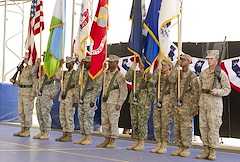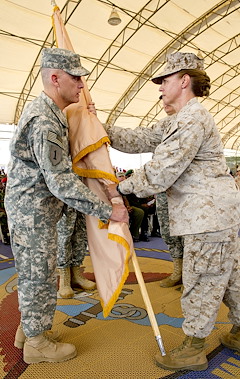 U.S. Army Maj. Gen. Mark R. Stammer assumed command of the Combined Joint Task Force-Horn of Africa from U.S. Army Maj. Gen. Wayne W. Grigsby, Jr., during a change of command ceremony at Camp Lemonnier, Djibouti on April 14, 2015. U.S. Army General David Rodriguez, commanding general for U.S. Africa Command, presided over the ceremony.
During his remarks, Rodriguez voiced confidence in Stammer to lead CJTF-HOA in strengthening America's East African partners and building cooperation throughout the region.
"Maj. Gen. Stammer brings strategic and operational expertise and a tremendous sense of teamwork to this command," noted Rodriguez. "I know he will hit the ground running and I look forward to working with him and seeing him lead this task force to future success."
Approximately 100 African, international and U.S. officials, as well as several hundred members of CJTF-HOA and Camp Lemonnier, attended the ceremony.
As Stammer addressed the crowd for the first time as CJTF-HOA commanding general, he pledged to continue building security cooperation in the region and expressed pride in now leading the organization responsible for that effort.
"CJTF-HOA, I am very honored, very proud and very humbled to join your ranks and stand as one among you today," declared Stammer.
Stammer comes to CJTF-HOA after serving as deputy commanding general (Operations) of the 101st Airborne Division at Fort Campbell, Ky. As CJTF-HOA commanding general, Stammer is responsible for an 11-country, 2.4 million square mile combined joint operation area in East Africa, and the only enduring U.S. military presence on the continent of Africa.