2 photos: CJTF-HOA holds JIIM event
Download full-resolution image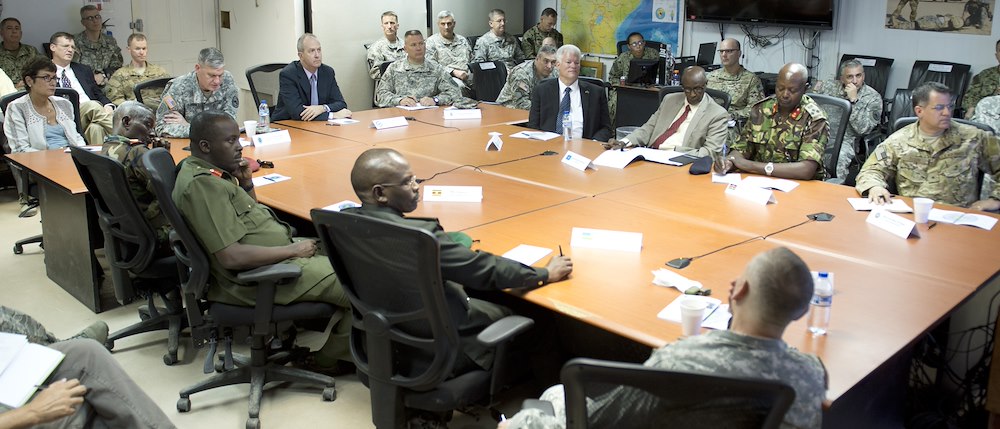 2 photos: CJTF-HOA holds JIIM event
Download full-resolution image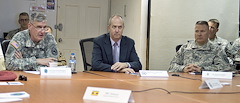 U.S. Africa Command hosted an East Africa Joint Interagency, Intergovernmental and Multinational conference at Camp Lemonnier, Djibouti on April 14, 2015.
Twenty representatives from six countries attended the event to gain a greater insight into each other's goals and objectives within the East Africa region. Attendees included heads of state and senior military officials from Djibouti, Kenya, Somalia, Ethiopia, Uganda and Rwanda.
The event provided General David Rodriguez, U.S. Africa Command commander, the opportunity to introduce the new Combined Joint Task Force-Horn of Africa Commander, Maj. Gen. Mark Stammer to the regional U.S. Embassy and East African partner nation representatives.
"I am very humble in joining this great team," said Stammer. "I am looking forward in serving alongside with the subject matter experts in this room."
As each country's representatives shared their support, goals and objectives during the conference, they all had one goal in common: neutralizing violent extremist organizations.
According to Rodriguez, in order to neutralize violent extremist organizations, we need to move forward and continue to improve support with each country. Through sharing intelligence and information, we can build a secure line of communication and reach the same goal.
"There are a lot of things out there that we can work on together as a government to increase everybody's capabilities," said Rodriguez. "We all have the strengths and weaknesses in operating in this theater."
U.S. Africa Command and CJTF-HOA will continue to create partnerships and forge relationships which enable partner nations to build interoperable, resilient and sustainable capabilities. Through respect, collaboration and transparency with our East African partners and a JIIM team, CJTF-HOA will reflect the U.S. political commitment to the region.