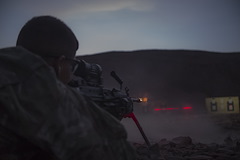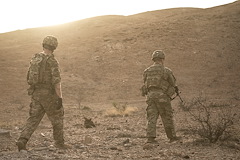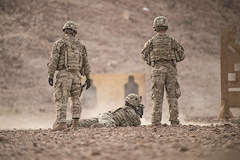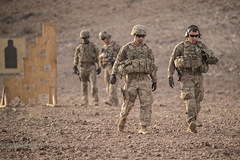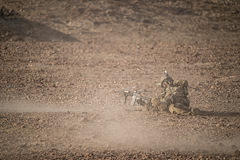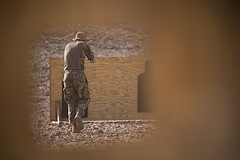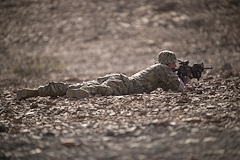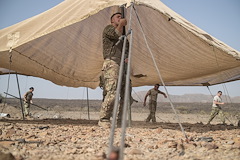 In military terminology, "the range is hot" is a warning that weapons are currently authorized to fire on a training range. This term has dual meaning here for military members, who are no strangers to the brutal heat of the training ranges located in the mountains along the Gulf of Tadjoura's southern coast.
Use of this exercise locale requires rigorous planning.
U.S. Marine Corps Staff Sgt. Neil Loaiza, Combined Joint Task Force-Horn of Africa, has the responsibility of coordinating and de-conflicting the use of the ranges with all U.S. service branches and international partners using these training ranges.
Loaiza explained that the Djiboutian military has allowed its international partners to use the mountain ranges as a training site for many years
"The French first established the training sites," said Laoiza. "Today, the ranges are very active, used by both U.S. forces and international partners who seek to train, qualify and sustain their qualifications on a variety of weapons systems."
The area has become a valuable asset to the melting pot of militaries in Djibouti, offering a suitable site for joint exercises and multinational training opportunities.
However, the site is not without its challenges, either. Safely navigating the rocky terrain to and from the ranges is always a priority. Black volcanic stone areas are abundant and limit vehicle transport options. The rocky dirt paths carved out by vehicle traffic throughout the valleys are often washed away by brief flash floods. Rocks have punctured tires and steep inclines have proven difficult to navigate. The logistics of moving troops and equipment out to the range is a training experience within itself.
Also, the range is hot, with temperatures soaring into triple digits for much of the year, and the dry, dusty atmosphere offers little opportunity for natural shade or shelter.
Loaiza's job is to help coordinate different organizations using the range. He communicates with foreign militaries to ensure that others know when the range is going to be "hot". Also, following any training, Loaiza inspects the ranges to ensure that each has been properly cleaned up, with no unexploded ordinance or excessive brass litter left behind.
"I maintain communication with various liaisons to organize each request based on what type of training they wish to accomplish," Loaiza said. "Different ranges are cleared for different types of ammunition and weaponry. Certain days of the week have no live-fire times, so I have to factor all these things into the planning."
And the diverse topography of the location offers an element that not all ranges can boast.
"Various exercises have utilized the natural elements such as a beach, well situated for amphibious landings and observation points, Loaiza commented. "There are large flat areas that offer enough room for a C-130 to land and take off from a smooth dirt surface. The training possibilities are plentiful."
U.S. Army soldiers of the Bravo Company "Bushmasters," 1st Battalion, 327th Infantry Regiment, 1st Brigade Combat Team, 101st Airborne Division, deployed with CJTF-HOA, used the range recently to perform night-firing qualifications. As part of the East African Response Force, Bravo Company enables a quick reaction force responsible for deploying and safeguarding U.S. embassies and interests in the region. The Soldiers must be ready to respond at any hour.
"We used the range to train a small team during both the day and during limited visibility, to shoot and maneuver and neutralize the enemy," said Sgt. 1st Class Joshua King, platoon sergeant for Bravo Company. "The fire team leader controlled his team by issuing moving, firing and security commands. Throughout this exercise he reported the developing situation and after the actions on contact."
King explained how they come prepared for the elements anywhere they go. This preparation includes various military specialties.
For example, in this training environment, they attached a squad of combat engineers to the exercise. Within minutes of arriving, the engineers erected a shade canopy and began to set up targets and prevented the Soldiers' dehydration with electrolyte powders and water.
"The training reinforces our readiness as a quick reaction force," King said. "We achieved qualifications, made corrections and observations involving individual movement techniques, fire commands, sectors of fire, target discrimination, security, and control."
The ranges in Djibouti are a vital link in the chain to CJTF-HOA's efforts to strengthen partner nations' defense capabilities, assisting U.S. Africa Command in promoting security and stability throughout the continent.