Colonel Eric J. Leckel, U.S. Army
Chief of Staff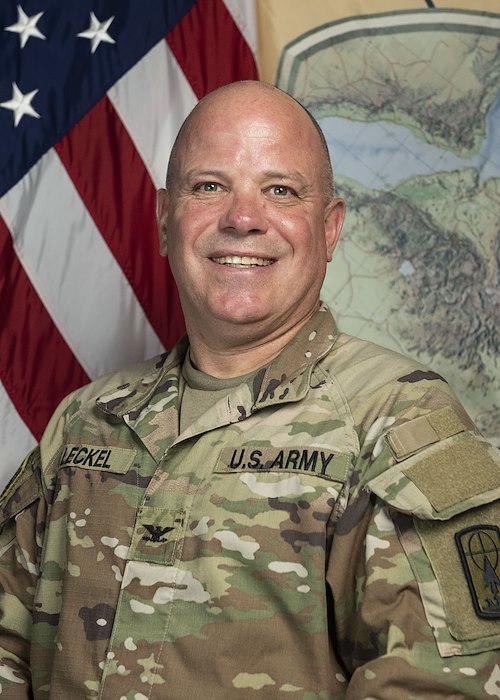 Colonel Eric J. Leckel serves as the Chief of Staff, Combined Joint Task Force-Horn of Africa.
Colonel Leckel commissioned as a Second Lieutenant from Officer Candidate School in 1996. Prior to his 26 years of commissioned service, he was an enlisted combat engineer for nine years.
He has served in a variety of leadership assignments, including: Commander of the 157th Maneuver Enhancement Brigade (MEB). Director of Construction & Facilities Management Office (CFMO); Director for Domestic Operations, Plans and Training (J-3/5/7) for the Wisconsin National Guard (WING) Joint Staff; Commander of the 54th Civil Support Team (CST); Deputy Director WING J-3/5/7; WING State Partnership Program Director; Reserve Component Liaison Officer to 7th Army Training Command in Germany; Platoon Leader, Company Commander, Battalion S-2, S-3, and XO for the 724th Engineer Battalion.
He has participated in multiple overseas combat and domestic operations including two deployments to Iraq in support of Operation Iraqi Freedom and New Dawn, as a Company Commander and Battalion Executive Officer, respectively; over 40 partnership engagements with the Country of Nicaragua; and 176 Domestic Support operations with the 54th CST. Additionally, Colonel Leckel directed Wisconsin National Guard domestic operations during an unprecedented period of time that included a National Special Security Event (NSSE), numerous COVID-19 Pandemic Responses, and Civil Disturbance Support Missions.
His notable awards and decorations include the Bronze Star Medal with one bronze oak leaf cluster, Meritorious Service Medal with two bronze oak leaf clusters, Joint Service Commendation Medal, and Army Commendation Medal with one silver oak leaf cluster.
Colonel Leckel holds Master's Degrees from the College of St. Scholastica in Management and from the U.S. Army War College in Strategic Studies.
Other pages in this section