Task Force Seminole leaves ironclad legacy in Djibouti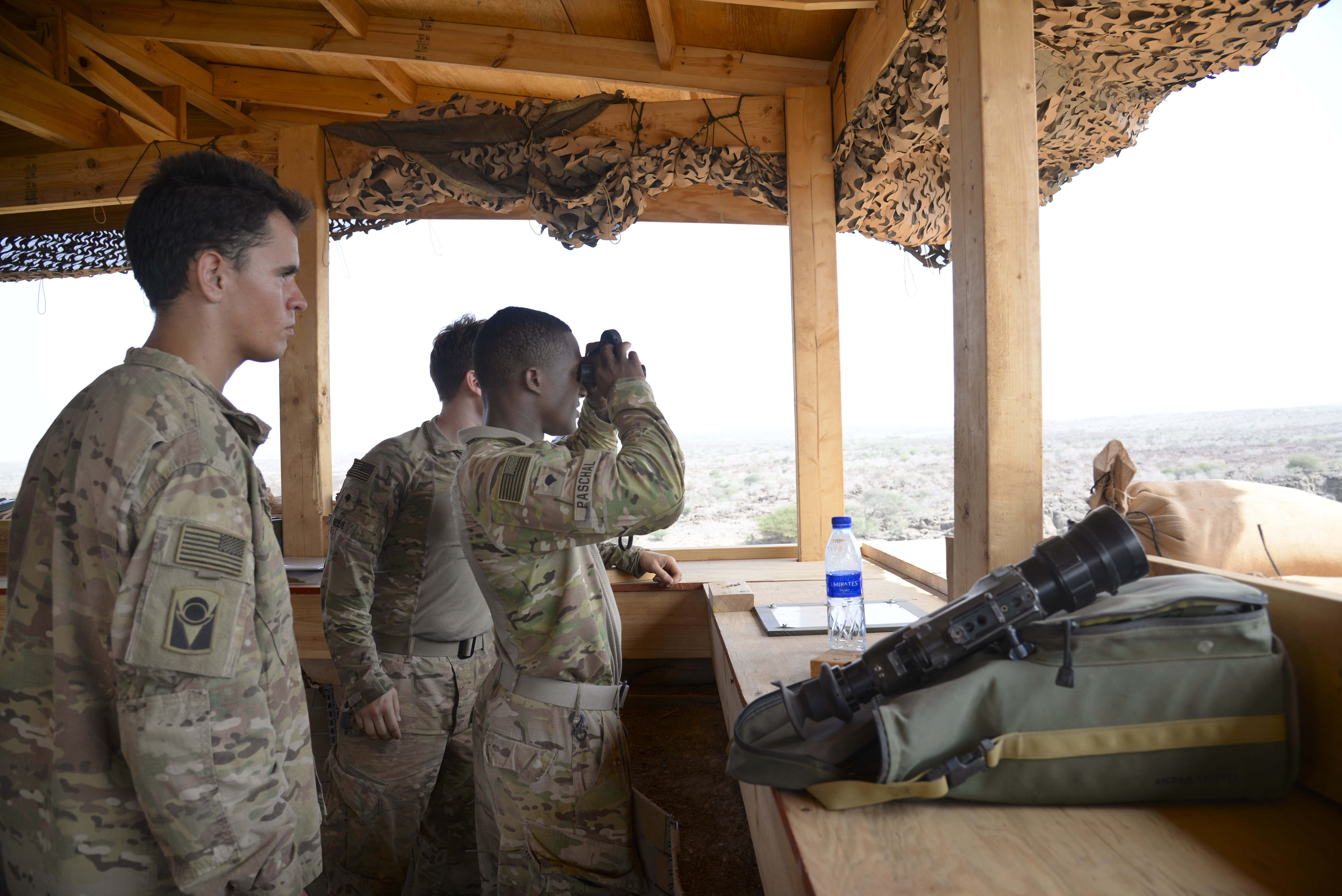 Combined Joint Task Force - Horn of Africa Image
U.S. Army soldiers with B Troop, 1st Squadron, 153rd Cavalry Regiment, conduct surveillance May 21, 2016. Task Force Seminole's defensive fighting positions have significantly improved over the course of their 11-month deployment, but they didn't do the work alone. Units from the U.S. Navy, Marine Corps and Air Force worked together to help accomplish the airfield's mission of enabling air operations in support of three U.S. combatant commands. (U.S. Air Force photo by Senior Airman Benjamin Raughton/Released)
Last year, Task Force Seminole's B Troop, 1st Squadron, 153rd Cavalry Regiment began their deployment on a security mission to Djibouti, which involved day and night surveillance and a continuous improvement of their defensive fighting positions (DFP).
As the Seminoles' tour draws to a close, they can look back on their 11-month security mission, which, at times, left them exposed to the elements or rained on, soaking the soldiers' uniforms and gear.
"The old positions were a camo net with some wood structures holding it up over a Hesco fighting position with no other hardcover," said Capt. Jason Robinson, airfield defense force commander. "The problem with those old DFPs when it rained, the rain would fall through the camo net, make mud in the bottom of the fighting position, fall into the soldiers' gear, onto the soldiers and their weapons."
The austere, but otherwise undisturbed operating environment gave Task Force Seminole the time needed to enlarge and reinforce the DFPs and ultimately have a solid roof and floor.
"They put in a hard floor, countertops for computer, surveillance equipment, machine guns, ammunition, night surveillance equipment, and more," Robinson described. "The roof will keep their equipment dry, keep the post sustainable and improve the [soldiers'] quality of life and their capabilities in the DFP."
The Seminoles' DFPs were significantly improved over the course of the deployment, but they didn't do the work alone.
The cavalry unit also received help from the U.S. Air Force 870th Air Expeditionary Squadron civil engineers, U.S. Naval Mobile Construction Battalion 22 and the 13th Marine Expeditionary Unit.
The improved DFPs provided more efficient security measures to accomplish the flight operations mission in support of three U.S. combatant commands.
"They knew the importance of the mission," said. Air Force Lt. Col. Otis Yeatts, 870th AES commander. "They're in the DFPs with smiles on their faces and did the mission, day in and day out with extraordinary dedication. They were a huge part of the team that made it happen."
In addition to reinforced DFPs, B troop built a detailed, 17-foot sand-table modeling the airfield and compound. They also constructed a solid roof over the table during B troop's deployment. The table is used when military officials need to describe specific locations of the compound with an accurate representation.
Task Force Seminole will soon return to their home state of Florida, and to their communities who support them year-round.
"We could not be more proud of the sacrifices you and your family make for our safety and our nation," said Rick Scott, governor of Florida during an address to the troops prior to their deployment, July 2015. "Families can sleep soundly at night knowing that the best-trained, best-equipped military in the world will take the fight to the enemy, to keep us safe."
Tags