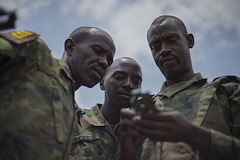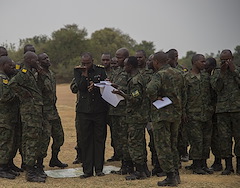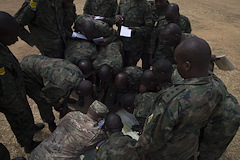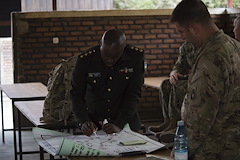 U.S. Army Soldiers from Combined Joint Task Force - Horn of Africa recently conducted a 10-day NCO Leadership Training course observation with the Rwandan Defense Force at the Rwandan Military Academy, Rwanda, Sept. 9, 2016.
The course, taught by U.S. and Rwandan soldiers, was designed to give the RDF NCOs skills and confidence to lead their men professionally, promote unit cohesion, establish a chain of command and be effective in any environment.
"We are here to provide the Rwandan NCO Corps observations and insight in relation to their NCO Academy to enhance their training events," said U.S. Army 1st Sgt. Jason Krenta, 1st Battalion 124th Infantry Regiment. "They are learning similar subjects to the U.S. Army NCO Academy ranging from patrolling to [counterinsurgency] and peacekeeping operations."
The students attending the class come from different tiers of leadership.
"Students being taught in this [course] range from sergeants to warrant officers and officers," said Staff Sgt. Bryan Mulbauch, 1/124 Inf. Rgt. team member. "Together [they] enhance the trust and cohesion between their NCO Corps and Officer Corps."
The students alone were not the only ones to enhance cohesion amongst each other, as the teacher-student dynamic also had to overcome the difficulties of being from different nations and speaking different languages.
"We had to be very creative in the way we instructed or provided input to the students and instructors, due to language barriers and lack of certain resources," Mulbauch said.
In working through the language issue, Krenta said that the class and instructors were always ready to learn and receive information.
"The students were highly receptive to the training being instructed and all the recommendations we have provided to them," said Krenta. "They have been very attentive and always asking questions throughout the training. They have really appreciated our input and different points of view we have provided when conducting the different classes"
Enhancing the partnership between NCOs and officers is not only important to improving an ally's military, but also the mission of CJTF - HOA.
"This is very important to the mission of CJTF-HOA because it allows us the ability to continue to grow trust and improve our partnerships throughout the [area of responsibility] with the different military organizations, and provide our observations and input to help to continue to strengthen their organizations, to support and defend their own countries," Krenta said.