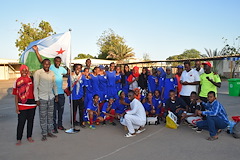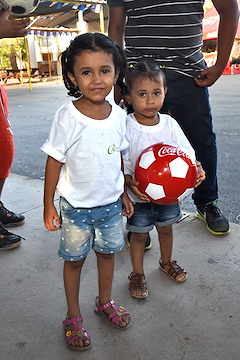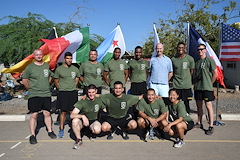 DJIBOUTI - Eleven teams from six different countries gathered at the French school Kessel in downtown Djibouti Dec. 9, 2016, for a friendly soccer tournament supporting the Kick for Nick Foundation.
The non-profit foundation was established in 2006 by the family of Pfc. Nicholas Madaras, who was killed in Iraq before realizing his dream to share his passion for the game of soccer with the local Iraqi children he encountered.
Today Kick for Nick strives to promote peace and goodwill around the globe by collecting soccer balls and apparel for distribution to disadvantaged youth in Nick's honor.
Sari Rasas, event organizer and friend of the Madaras family, began aiding the foundation with the distribution of soccer balls to East Africa two years ago.
Through their association with the United Nations, he and his wife Valerie help connect the Madaras family foundation to opportunities that fulfill Nick's dream of bringing soccer equipment to children around the world.
"Even a simple gesture like the gift of a soccer ball can really make a difference in the lives of less fortunate children," Rasas said. "It's an opportunity to put all differences aside, and use the common love of a sport to bring people together."
According to Rasas, coordination for the Dec. 9 event held in Djibouti began nearly a year ago, with a desire to bring all the locally stationed military forces together. His efforts proved successful. In addition to several local Djiboutian teams in attendance, were soccer teams representing units from the French, German, Italian, Japanese and U.S. militaries.
Maj. Andreas Gil, Charlie Company Commander for the 411th Civil Affairs Battalion and member of the U.S. military soccer team, welcomed the opportunity for his soldiers to take part in the tournament.
"It not only helped us build the international relationships necessary to work as unified action partners to accomplish the mission in Djibouti and East Africa, but also put forth the idea that we all have something in common," Gil said. "We are all soldiers, and soldiers have something in common; we care about other people, otherwise we wouldn't be here."
While deployed in support of Combined Joint Task Force - Horn of Africa, the Army Reserve Civil Affairs Soldiers travel to remote towns and villages throughout the region, and are able to distribute the donations without impacting their primary mission.
As civil affairs business is conducted, available personnel will take the opportunity to strike up a soccer game with local youth and hand out balls provided by the foundation.
According to Gil the practice is a force multiplier, resulting in positive second and third order effects on the local populace.
To date, donors, volunteers and service members like the soldiers of the 411th CAB have helped Kick for Nick distribute more than 47,000 soccer balls in 30 different countries.
"I think the concept of the foundation is amazing," Gil said. "It's great to know that we're carrying on the legacy of Pfc. Nick Madaras."