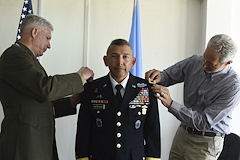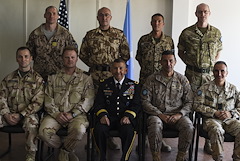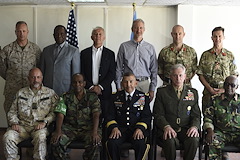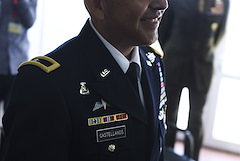 MOGADISHU, Somalia-- The Deputy Commanding General for the Combined Joint Task Force-Horn of Africa (CJTF-HOA) in Somalia has donned his first star as of June 4.
In a ceremony at the Mogadishu International Airport in Mogadishu, Somalia, attended by a room full of distinguished ambassadors and international military partners, U.S. Army Brig. Gen Miguel A. Castellanos was promoted to brigadier general.
In his current dual-hatted position as deputy commanding general for CJTF-HOA in Somalia and Mogadishu Coordination Cell (MCC) director, he is the senior U.S. military liaison to the Federal Government of Somalia, Somali National Security Forces, and international partners.
U.S. Marine Gen. Thomas Waldhauser, U.S. Africa Command (AFRICOM) commander, presided over the ceremony and spoke highly of Castellanos' potential and capabilities. Having recently worked closely with Castellanos in Stuttgart, Germany, while Castellanos was the deputy director for AFRICOM's Strategy, Plans, and Programs Directorate, Waldhauser shared his first impressions of the new brigadier general.
"I met Mike about 7 months ago and very quickly I could see why he had been selected for general," said Waldhauser. "There are attributes that you want in a general: leadership [skills], teambuilding, knowledge, calmness, and the ability to take complex problems and figure out ways to move forward. Mike displayed those from the day he joined our staff and I was very impressed with his work."
Waldhauser expressed that shortly after the election the current president of Somalia, there was a need for more senior officers in the MCC to help synchronize efforts between the international military partners, pull various agencies together and develop momentum to change the dynamic of Somalia to move forward.
"I knew the guy that we needed to send down here," said Waldhauser.
The AFRICOM commander stated Castellanos' absence would be felt within his staff, but that only further confirmed that he was the right person for the job.
With marching orders from Waldhauser to "go do what generals do," Castellanos asked no further questions and set forth to make his contribution to this AFRICOM mission.
As the senior U.S. military officer in Somalia, Castellanos works from the Mogadishu International Airport compound with his team to support combined military efforts to achieve U.S. Africa Command's top priority of defeating Al-Shabaab in Somalia and successfully transitioning security functions to Somali National Security Forces.
"At the end of the day, having the ability to serve and continue to serve after over 30 years is very humbling and I'm grateful for the opportunity," said Castellanos. "My time here is undetermined, but my intent is to stay as long as needed to get the international community and the country of Somalia moving back in the right direction."