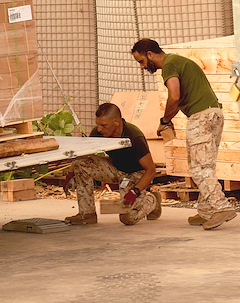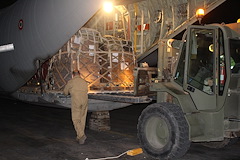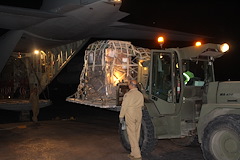 Combined Joint Task Force-Horn of Africa (CJTF-HOA) Joint Logistics Operations Center achieved its initial Air Transportation and Refueling Exchange of Service (ATARES) with the Italian military here, June 9.
ATARES is a mutually accepted cash-free exchange of services between nations that provides support in air force activity, to include airlift, air refueling, aeromedical evacuation, and flight simulations.
"As far as the current airlift we're using, we have multiple users for only two C-130's [Hercules] here," said U.S. Air Force Maj. Christopher Narvaez, CJTF-HOA Joint Logistics Operations Center deputy branch chief. "And for locations like Somalia, air is the most viable way to move cargo. ATARES is an option we wanted to see if we should pursue as a long term agreement, should we have to surge cargo to a location."
Because the Italian military utilizes the same model aircraft as U.S. Force in East Africa, this joint agreement could prove mutually beneficial to both countries in accomplishing their missions.
This year, the U.S. forces in Africa join 23 other nations participating in ATARES membership, decreasing administrative procedure and increasing multinational cooperation. This is accomplished by using one C-130 Hercules flying hour as currency. Nations involved in the exchange receive a value-based compensation for a corresponding level of support, which eliminates the exchange of money.
Using ATARES falls in line with the CJTF-HOA mission execution method of supporting international partner efforts and military-to-military engagements. Danish, French, British, Spanish and Italian air forces compose the five European associates in the collaboration.
A proof-of-concept mission, CJTF-HOA worked with Italian military airlift to transport a pallet of water and packets of Meal, Ready-To-Eat (MRE) to Somalia. The mission served as a trial run to detect and mitigate possible administrative and operational challenges, said Narvaez.
Somalia, home of the violent extremist organization al-Shabaab, was chosen at the final destination due to the difficulties in water and ground transport to the region. With CJTF-HOA's intent of neutralizing al-Shabaab through supporting and strengthening the Somali National Army, the option of sourcing ATARES could greatly help increase the efficiency of conveying assets to the area.
"We've been working on optimizing air distribution since September," said U.S. Navy Lt. Cmdr. Karl Meyer, CJTF-HOA logistics plans deputy, who started working to integrate the ATARES program since December. "We were trying to develop commercial aircraft access for [CJTF-HOA] and it's incumbent upon [U.S. Africa Command] to support us in that endeavor. During the process, they presented the idea of the ATARES program."
According to the Department of Defense - International Cooperation, Office of the Under Secretary of Defense for Acquisition Technology and Logistics website, ATARES is a substitute to the Alternative to Acquisition Cross Servicing Agreement (ACSA). ACSA payments must be either in cash, replacement-in-kind, or exchange of supplies or services of equal value in support of the operational needs of forward deployed forces. ACSAs are not used as a routine source of supply for a foreign country; also, they are not used as a routine source of supply for a foreign country.
"U.S. Africa Command (AFRICOM) came to us with the program, since they already had it set up in Europe, and explained how we can use it, "said Narvaez. "They got the ball moving and gave us all the information we needed. They are the ones with the knowledge about the program and shared that with us."
Payments with the ACSA go into general funds, meaning that the unit supplying the services does not receive any direct payment. Conversely, ATARES offers a peer-to-peer bartering process, which can also lead to an increase in mission efficiency. Because ATARES requires no financial payment, there is a decrease in the administrative procedures required for international partners to work together.
And while the initial flight was on concert with the Italian military, U.S. military airlift could work with a multitude of other nations.
"The main takeaway is that distribution optimization and logistics optimization is not simply a [CJTF-HOA] process; it needs to involve AFRICOM, it needs to involve the components who we work together with to solve problems," said Narvaez. "It's a much better process than us trying to stovepipe it and do it on our own."