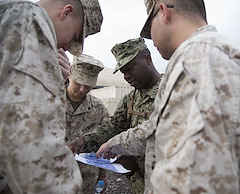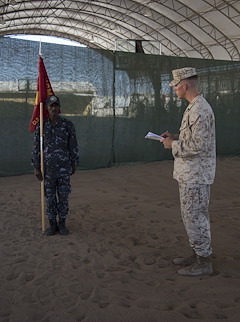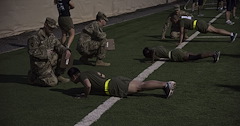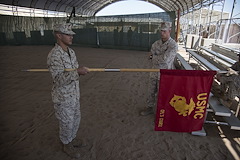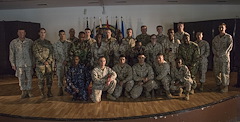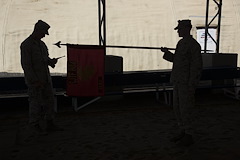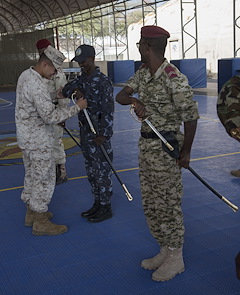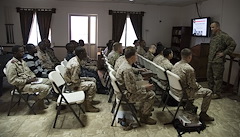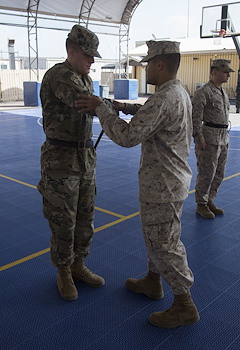 Service members from Combined Joint Task Force Horn of Africa (CJTF-HOA), Camp Lemonnier, Djibouti Armed Forces (FAD), and Marines from across East Africa have successfully completed the Joint Corporals Course.
The class, consisting of two Marines, two Soldiers and a Sailor from CJTF-HOA, along with seven FAD members and nine Marines stationed at various U.S. Embassies throughout Africa, began the physically and mentally challenging leadership course January 4, 2018, and finished with a graduation ceremony at Camp Lemonnier, Djibouti, on January 24.
The Joint Corporals Course, hosted by CJTF-HOA, is rooted in the Marine Corps Corporals Course, which is designed to provide junior service members with the knowledge and skills necessary to assume leadership roles of greater responsibility as a non-commissioned officer (NCO). It covers all topics in the Marine Corps course, while also serving as a forum to trade best practices and develop relationships with military members from Djibouti Armed Forces (FAD), as well as service members from other U.S. military branches.
U.S. Marine Corps Brig. Gen. David Furness, commanding general of CJTF-HOA, was also invited to speak to the class during one of the classroom sessions.
"This is a great example of our military working with our Djiboutian partners to strengthen our relationship, and at the same time maintaining and improving the readiness of our junior NCO leadership," Furness said.
Each military group brings its' own perspective to leadership and problem-solving skills, making this a unique environment.
"Leadership, like any other experienced based skill set, requires constant education and practice," said U.S. Marine Corps Staff Sgt. Steven Andrews, who was in charge of training for the course. "Being in an educational setting here really opens the forum to discuss leadership commonalities and differences, and how that knowledge can be applied in a joint environment."
Each student began most days of the course with a physical fitness test from one of the U.S. military branches, before attending classes that totaled over 120 hours of instruction. Topics covered include public speaking, operational stress control, tactical communication and land navigation.
"Attending the Joint Corporals Course builds a common understanding between these junior NCOs," said Master Sgt. Michael Messina, Director of the Joint Corporals Course. "By working together, they learn how the same goals can be met in different ways."
There were several unique challenges involved in participating in the joint course. The FAD service members speak French, so a translator was needed. The students are also in a deployed environment, and the mission must come first. If someone missed part of the course due to mission requirements, they were expected to make that work up, and stay on track, Andrews said.
Despite language barriers, rigorous coursework and the added stressors of being deployed, all 21 of the students graduated the Joint Corporals Course.
"Leadership across the board does not change from one branch or one country to the next," said Messina. "Not only did these students do a phenomenal job, giving 100% effort the entire course, but they have worked to build relationships that will last them a lifetime."