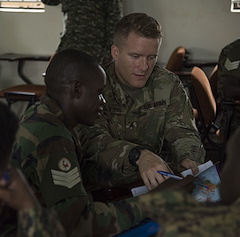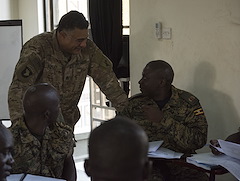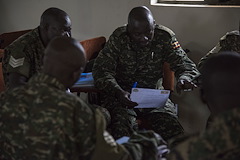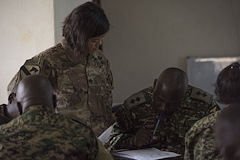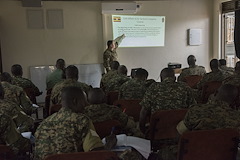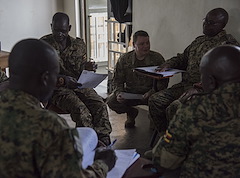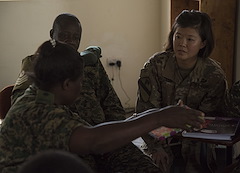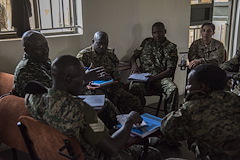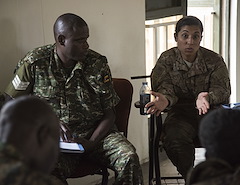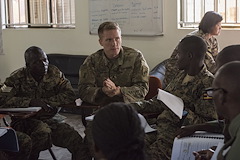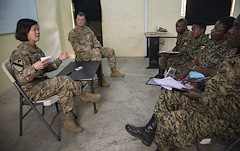 Five U.S. Army Soldiers assigned to the 404th Civil Affairs (CA) Company, 407th CA Battalion, attached to the Combined Joint Task Force - Horn of Africa (CJTF-HOA), are currently forward deployed to Camp Singo, Uganda, to advise and assist in the training of the first tactical Civil Affairs Company within the Uganda People's Defence Force (UPDF).
Civil Affairs Team 6 (CAT6) is tasked with teaching a 10-week Civil Military Cooperation (CIMIC) Civil Affairs (CA) Tactical Company Course (C/CTCC) to selected members of the Ugandan military. The course, which is founded in NATO Civil Military and U.S. military Civil Affairs doctrine, was newly created for this course and is the first of its kind being offered at Camp Singo which is Uganda's military training camp for peace support operations.
Each UPDF student was specially selected by their command to attend the course based on their experience with CIMIC. This means a smaller class size, about 30-40 students, but the training is much more specialized, said UPDF Lt. Col. Nelson Aheebwa, Foreign Liaison Officer for Uganda with CJTF-HOA.
The UPDF CA Company itself will include smaller specialized teams, such as CIMIC-trained maneuver unit commanders and a Female Engagement Team, specializing in promoting local projects and supporting standard living condition improvement for women and children. This will play a large role in the team's upcoming deployment in support of the African Union Mission in Somalia (AMISOM), where continuous effort is being made to promote gender equality and human rights in Somalia, in compliance with International Human Rights and Humanitarian Law, and the AMISOM Mandate.
"In the current uncertain environment, the UPDF is a leader in providing support to help develop stability in Somalia," said U.S. Army Captain Raphael Howard III, team leader and Officer in Charge (OIC) of the training. "This course helps to enhance their capacity to be more able to continue that support with a stronger trained and more adaptable force."
Topics covered in the course include coordination with civilian agencies, humanitarian guidelines, quick-impact projects and tactical CIMIC application.
The course will conclude with a Field Training Exercise (FTX), including a Medical Civic Assistance Program (MEDCAP) inject, said Aheebwa. This will give students a chance to practice techniques they have been taught, so they can teach their Somali counterparts the same techniques.
"The students are learning the subject matter and are beginning to internalize it in a manner that allows them the critical thinking needed to ask more and more complex questions," said Howard, noting they are about halfway through the course. "They are showing consistent improvement during practical exercises, and keeping our instructors on their toes."
The subject-matter experts (SMEs) that were chosen from CJTF-HOA to teach the course do offer a wealth of experience, with over 20 deployments between them, as well as time spent as military instructors. Two are certified instructors through Army Cadet Command, and one Soldier holds a master's degree in education.
The class is set to graduate mid-April, with discussions of a second iteration of the course in progress.
"The students are enthusiastic to learn from the United States military members, because they know they are experienced. They know what they are doing because they have applied these tactics in other locations and operations, said Aheebwa. "There is an understood respect for the American military among the Ugandan soldiers that has been built from experience and a long-standing partnership, and we wish to keep working together to continue progress in Somalia."