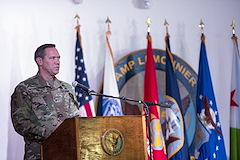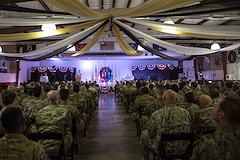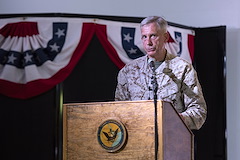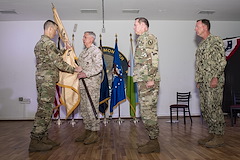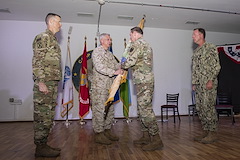 CAMP LEMONNIER, Djibouti-- Service members deployed to Combined Joint Task Force-Horn of Africa (CJTF-HOA) welcomed their new commander during a change of command ceremony, June 14.
U.S. Army Brig. Gen. William Zana, outgoing commander of CJTF-HOA transferred responsibility to Brig. Gen. James Craig. U.S. Marine Corps Gen. Thomas Waldhauser, commander of United States Africa Command, presided over the ceremony.
Waldhauser thanked Zana for his steady leadership and recognized Zana's accomplishments in leading his staff in the development of a new campaign support plan and East Africa strategy.
"It is a pleasure for me to be part of this change of command ceremony," said Waldhauser. "We give all of our support and pride to Brig. Gen. Zana for the job that he's done here both in the past six weeks and as he continues on as the deputy commander."
Waldhauser took a moment to reflect upon the future of CJTF-HOA and its' importance on East Africa as a whole.
"After 15 years of operations with a rapidly changing set of threats and challenges, the mission of CJTF-HOA must evolve to keep pace with our allies on the continent and the east African region,' said Waldhauser. "As Djibouti grows into the most significant strategic training and logistics hub in this region, CJTF-HOA remains at the center of U.S. efforts to responding to threats in the region, developing organic capabilities among our east African partners, and supporting democratic ideals in the region."
He recognized how fortunate CJTF-HOA was to have Craig as their new commander.
"He's a proven leader, who we welcome to Djibouti with great anticipation," said Waldhauser. "I know that general Craig will continue to open the lines of communication to foster these relationships, build on the efforts of his predecessors, and continue to make CJTF-HOA an organization relevant in contributing to all areas of security and development in east Africa."
Zana thanked the many visitors and service members for attending the ceremony during his final address as CJTF-HOA's commanding general.
"To our African, international and U.S. partners, I am eternally grateful for the strong bonds we have formed and I look forward to strengthening those in the future months," said Zana. "Ambassador André I would be remiss if I didn't call out, specifically, that I couldn't ask for a better, more cooperative relationship than we have with your mission. Thank you, to you and your team for the favorable conditions that you continue to set for teamwork here in Djibouti."
Zana expressed his appreciation to Waldhauser for the opportunities he has had with CJTF-HOA.
"I am equal parts honored and humbled," said Zana. "I appreciate your trust and your confidence and your continued support in this very important combined team. I thank you for the privilege of [serving] as both commander and deputy commander for this great command,"
He also recognized the leadership team, the units, and the staff.
"Day to day I'm just continually amazed at your many talents, your dedication and your ability to work together as a strong, capable force all against the backdrop of a very, very complex, dynamic and every changing set of circumstances," said Zana. "So you've all provided me with great support, what I ask is that you provide that to Brig. Gen. Craig as well."
With the passing of the task force flag, the change of command was complete. Craig thanked the many visitors during his opening address and shared his sentiments on the future ahead.
"I am humbled and honored to have the opportunity to serve with the men and women of this distinguished organization," said Craig. "Gen. Waldhauser, thank you for giving me this opportunity and the privilege to serve with these outstanding patriots."
Craig will now be responsible for overseeing CJTF-HOA's efforts in continuing to develop enduring partnerships, helping to build the defense capabilities of our African partners and regional organizations, and the ongoing efforts to deter and defeat trans-national threats operating in Africa. Craig recognized Zana's dedication in working towards those efforts.
"Bill, I congratulate you on a job well done," said Craig. "I have been inspired by your dedication to CJTF-HOA, the mission, and to the members of this unit. I feel incredibly fortunate that we will continue to be working together as part of the CJTF-HOA command team. I couldn't ask for a better deputy.
Craig's closing words recognized the efforts of CJTF-HOA's service members.
"To the members of CJTF-HOA, I thank you and I salute you for serving your country as a member of this organization," said Craig. "Your dedication, selfless service and sacrifice do not go unnoticed and I look forward to serving with each and every one of you."