Article
CJTF-HOA Leads Desk Rejuvenation Project throughout Djibouti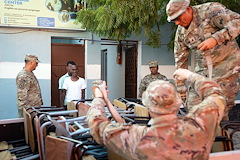 11/2/2023
Civil Affairs and Engineering service members stationed in Djibouti have worked on strengthening relations with the local community through their Desk Rejuvenation Project. The project has led to delivery of hundreds of desks to students in the Horn of Africa.
Read more
Article
294th ESC transfers responsibility of engineering mission to 1782nd ESC
10/19/2023
The 294th Engineer Support Company (ESC) transferred authority of the Combined Joint Task Force – Horn of Africa (CJTF-HOA) engineering mission to the 1782nd Engineer Support Company during a transfer of authority ceremony at Camp Lemonnier, Djibouti, Oct. 18, 2023.
Read more