Article
CJTF-HOA British Army Personnel Celebrate Remembrance Sunday
11/11/2020
Remembrance Day Ceremonies across the United Kingdom have been different this year because of COVID restrictions. However, members of the British Army embedded at Combined Joint Task Force – Horn of Africa (CJTF-HOA) were able to participate in an Act of Remembrance on Sunday Nov. 8, 2020 at the New European Cemetery, in Djibouti City, Djibouti.
Read more
Article
Brits Embed to Support U.S. Mission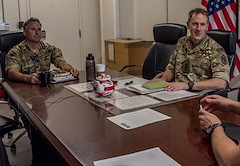 12/8/2020
The U.S. Department of Defense and the U.K. Ministry of Defence have formed a partnership in the Horn of Africa and embedded members of the British Army to work alongside American Service members at CJTF-HOA. These Brits put the "combined" in Combined Joint Task Force and provide the U.S. Military with a fresh perspective, new ideas and unique experiences to their different sections within the headquarters.
Read more