Major General Jami Shawley, U.S. Army
Commanding General - Twitter: @CJTFHOA_CG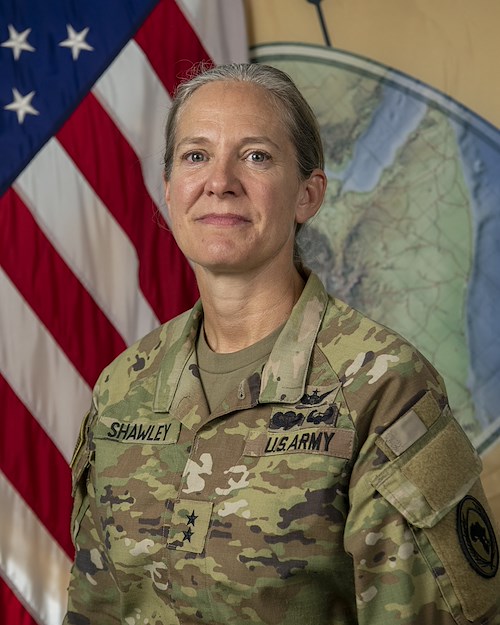 Major General Jami C. Shawley serves as the commanding general of Combined Joint Task Force-Horn of Africa (CJTF-HOA). The command ensures strategic partnership with Djibouti, responds to crises, supports operations and protects US. Interests in the region in order to enhance stability and prosperity in East Africa.
Major General Jami Shawley was commissioned as an Army Aviation Second Lieutenant through the United States Military Academy in 1992. She began her career flying AH-1 helicopters in the 2nd Infantry Division in Korea and served at company, battalion and brigade level staff positions in the 3d Infantry Division, Savannah, Georgia.

Following the Engineer Officer Advanced Course, Major General Shawley transitioned to Special Equipment Mission Aviation and Army Fixed Wing operations. She commanded a company in the 224th Military Intelligence (Aerial Exploitation) Battalion, conducting Guardrail missions flying Army RC-12s.

Major General Shawley transitioned to the Army Reserve in 2001 and re-entered active duty as an Active Guard Reserve officer in 2006. She served as the Army Reserve Aviation Branch Chief at Human Resources Command and as the Headquarters, Department of the Army, G-3 Aviation Fixed Wing Officer in the Pentagon prior to deploying as a Task Force Air Director in Afghanistan.

Major General Shawley commanded the 2-228th Aviation Regiment as it supported simultaneous split rotations in Kuwait, Iraq, and Afghanistan and provided sustained airlift support to Joint Inter-Agency Task Force South throughout the SOUTHCOM area of responsibility.

Following graduation from the National War College, Major General Shawley served as the military advisor to the Department of State, Bureau of Counterterrorism and Countering Violent Extremism and as a Senior Crisis Operations and Policy Officer for the bureau. She then served as the Assistant Deputy Director in the Joint Staff Strategy, Plans and Policy Directorate (J5)-Africa. Major General Shawley formerly served as the Commanding General, Army Reserve Aviation Command.

Major General Jami C. Shawley was the Commander of the 81st Readiness Division located on Fort Jackson in Columbia, South Carolina and the Senior Commander of Fort Buchanan, Puerto Rico. The 81st Readiness Division has responsibility for base operations for Army Reserve units throughout the South Eastern United States and Puerto Rico, and is responsible for ensuring units, equipment, and Soldiers are prepared to deploy and fight in multi-domain operations and meet current and future Combatant Commander Force requirements.

Major General Shawley has two master's degrees and holds a number of awards and badges to include the Defense Superior Service Medal, Legion of Merit Award, Bronze Star and Senior Aviator Badge.
Other pages in this section