Major General Lapthe C. Flora, U.S. Army
Commanding General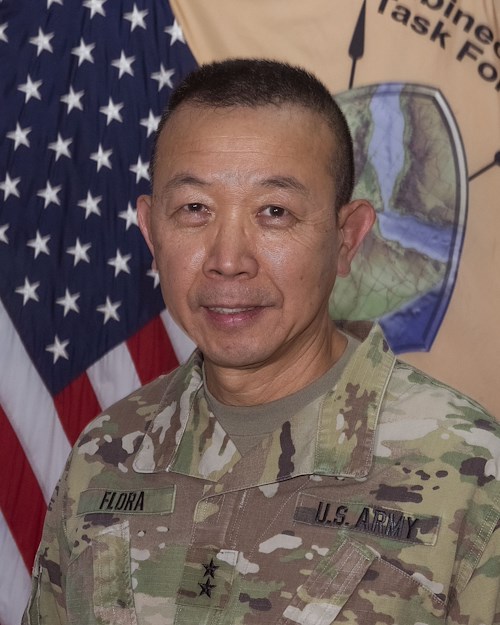 Major General Lapthe C. Flora serves as the Commanding General, Combined Joint Task Force-Horn of Africa.
Flora earned his commission as an Infantry Officer from Virginia Military Institute in 1987, and has commanded at every level from company and brigade to state-level land component command. In addition to his command assignments, he also served in several key staff positions as the 116th IBCT Executive Officer, 29th Infantry Division G3, and JFHQ-VA J5. While serving in the 29th Infantry Division in 2001, Flora deployed to Bosnia as part of the G3 staff and served as the Deputy G3 Chief of Future Ops, Training & Synchronization with Multinational Division North.
As a battalion commander in 2006, he led the 1-116th IBCT in support of NATO peacekeeping operations in Kosovo. In 2011, he served as the Senior Advisor and Director, Afghan National Army, Ground Forces Command, ISAF Joint Command in Afghanistan. He served as the Assistant Adjutant General for strategic initiatives in the Virginia National Guard in 2016. Most recently, he simultaneously held the positions of both the U.S. Army Africa Deputy Commanding General and Army Reserve Component Integration Advisor and the Virginia National Guard Assistant Adjutant General - Army, Land Component Commander.
Flora's awards and decorations include the General MacArthur Leadership Award, Legion of Merit, Bronze Star Medal, Meritorious Service Medal with 3 Bronze Oak Leaf Clusters, Joint Service Commendation Medal, Army Commendation Medal with 1 Bronze Oak Leaf Cluster, Army Achievement Medal with 4 Oak Leaf Clusters, Army Reserve Components Achievement Medal with 5 Oak Leaf Clusters, National Defense Service Medal with Oak Leaf Cluster, Armed Forces Expeditionary Medal with Oak Leaf Cluster, Afghanistan Campaign Medal, Kosovo Campaign Medal, Global War on Terrorism Service Medal with 3 Oak Leaf Clusters, Armed Forces Reserve Medal with "M" Device Numeral 3 and Bronze Hour Glass, Army Service Ribbon, Overseas Service Ribbon (3rd Award), NATO Medal (3rd Award), VA Governor Medal, VANG Legion of Merit, VANG Bronze Star, VANG Commendation Medal with Oak Leaf Cluster.
Following the Communist capture of Saigon in 1975, Flora and his brothers fled the city to avoid being drafted into the North Vietnamese military. He spent more than three years in the jungle and then fled by boat to Indonesia where he spent a year living in three separate refugee camps.
In his civilian capacity, Flora recently retired after 30 years with the night vision business of Harris Corporation in Roanoke, Virginia. He began his career as an Engineering Technician and Process Engineer, eventually advancing to vice president and director-level positions for quality assurance and process improvement. He is a certified lean six-sigma black belt with decades of image intensification night vision manufacturing and management experience and holds six patent awards related to the AN/PVS-14, AN/AVS-6 and AN/AVS-9 night vision devices.
Other pages in this section