Brigadier General Stephen P. Case, U.S. Army
Deputy Commanding General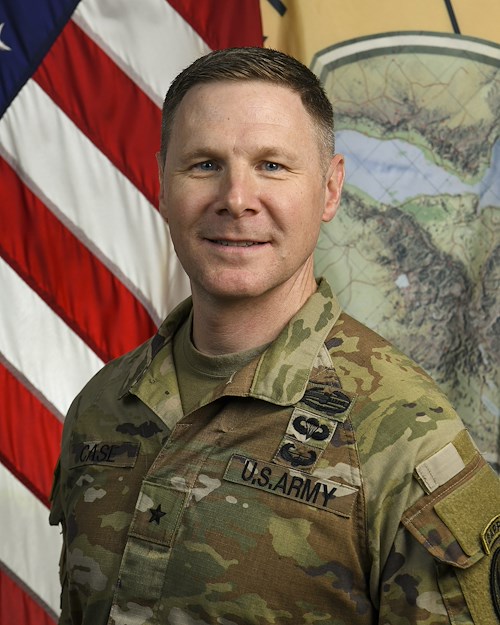 French translation below English version
Brigadier General Stephen P. Case serves as the Deputy Commander for the Combined Joint Task Force - Horn of Africa (CJTF-HOA), United States Africa Command (USAFRICOM), Camp Lemmonier, Djibouti.
General Case entered the United States Army in July of 1995 when he commissioned as a Second Lieutenant. He has served as the acting Project Director for the Integrated Fires and Rapid Capabilities Office responsible for Integrated Air and Missile Defense initiatives for the Army, facilitating Multi-Domain Operations. Also responsible for the creation of Programs of Record, production, fielding and sustainment of Army prototyping initiatives such as Hypersonic Weapons, High Energy Lasers, Directed Energy and Counter Unmanned Aerial System weapons.
Notable assignments include: Chief of Staff of the 335th Signal Command, Commander of the 209th Digital Liaison Detachment, Officer in Charge of Joint Munitions Command - Army Reserve Element, Commander of the 4th Battalion, 323d Infantry Regiment and Deputy Brigade Commander of Army Material Command - Army Reserve.
His awards and decorations include the Meritorious Service Medal with two bronze oak leaf clusters, Joint Service Commendation Medal, Army Commendation Medal with two bronze oak leaf clusters, Army Achievement Medal with one bronze oak leaf cluster, Combat Action Badge, Parachutist Badge, Air Assault Badge and Sapper Tab.
General Case's civilian education includes a Bachelor of Science in Engineering Management from the United States Military Academy and a Master's Degree in Management and Leadership from Webster University.

___________________Please read below for French translation__________________
Général de brigade Stephen P. Case, de l'armée américaine.
Commandant général adjoint
Le général de brigade Stephen P. Case est le commandant adjoint de la Force opérationnelle interarmées conjointe - Corne de l'Afrique (CJTF-HOA), Commandement des États Unis en Afrique (USAFRICOM), Camp Lemonnier, Djibouti.
Le général Case est entré dans l'armée américaine en juillet 1995 en tant que sous-lieutenant. Il a occupé le poste de directeur de projet par intérim pour le bureau des tirs intégrés et des capacités rapides, responsable des initiatives de défense aérienne et antimissile intégrée pour l'armée, facilitant les opérations multi-domaines. Il est également responsable de la création de programmes d'enregistrement, de la production, de la mise en service et du soutien d'initiatives de prototypage de l'armée, telles que les armes hypersoniques, les lasers à haute énergie, l'énergie dirigée et les armes de contre-système aérien sans pilote.
Parmi ses principales missions, on peut citer : Chef d'état-major du 335th Signal Command, commandant du 209th Détachement de la liaison digitale, officier responsable du Commandement des Munitions conjointes– Armée de Reserve Élément, commandant du 4th Bataillon, 323e Régiment d'infanterie et commandant adjoint de brigade du Commandement du Matériel de l'armée – Armée de Reserve.
Ses distinctions et décorations comprennent la Médaille du Service du Mérite avec deux feuilles de chêne en bronze, la Médaille de Commandement du Service de Service Conjointe, la Médaille du Commandement de l'Armée avec deux feuilles de chêne en bronze, la Médaille d'Accomplissement de l'Armée avec une feuille de chêne en bronze, le Badge du Combat Action, le L'Insigne de Parachutiste, le l'Insigne d'Attaque Aérienne, et l'Insigne du Sapper Tab.
La formation civile du général Case comprend une License S Science en gestion d'ingénierie de l'Académie militaire des États-Unis et un Master en gestion et leadership de l'Université Webster.
Other pages in this section